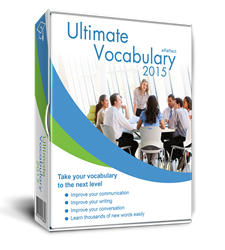 ...building a power vocabulary becomes more enjoyable as each user now has the ability to share their progress and success on Facebook.
New York City, NY (PRWEB) March 16, 2015
eReflect announces that EdTechReview.in has recently published a detailed review of the latest release of Ultimate Vocabulary™. The reviewer at EdTechReview examines the program's features and new functionalities, and focuses on the many ways that vocabulary improvement is turned into a game rather than a chore by the 2015 release of the software.
Vocabulary builder software products often fail to offer a complete, pleasurable experience for learners. This is not the case with the 2015 release of Ultimate Vocabulary™, EdTechReview.in highlights. From introducing advanced cloud technology to encouraging group learning, the program is the go-to solution that makes increasing vocabulary skills both fun and efficient. The EdTechReview.in editor explains the new cloud-based program, saying,
"No matter how many computers or laptops you're using, your practice and all progress-related information, as well as your personal profile, are automatically synced on all devices. One of the best parts is that you don't need to download or install any files to start practicing your vocabulary! You simply log in and you're all set."
The reviewer also highlights that building a power vocabulary becomes more enjoyable as each user now has the ability to share their progress and success on Facebook. This not only motivates users to try harder so that they can share their success again, but it also makes it, as the reviewer notes, "so much fun that you don't even realize that you're working hard."
One of the most important aspects of Ultimate Vocabulary™ 2015 is its EDU release, which has been specifically designed for classroom use. The program comes packed with functions and features that facilitate the learning of new vocabulary in the classroom. The program is curriculum-compatible in several English-speaking countries, but it is also equally efficient in one-on-one sessions and in group learning practice. Ultimate Vocabulary™ EDU gives educators increased power over monitoring and adjusting the students' practice, which optimizes their learning outcomes.
"Students who want to improve vocabulary can do so with a program that's expertly designed and user-friendly. With Ultimate Vocabulary™ EDU educators have a strong ally in conquering new vocabulary," the eReflect spokesperson declared today.
***********
For more information on how you can benefit from Ultimate Vocabulary, please visit its official website, http://www.ultimatevocabulary.com.
About Ultimate Vocabulary™
Ultimate Vocabulary provides a proven and powerful platform, built to improve anyone's vocabulary.
The interactive self-improvement system provides more learning tools than any other program on the market, as well as more information on words.
The Ultimate Vocabulary software provides each and every user with a personal computer tutor. Providing a step-by-step guide to learning a powerful vocabulary, Ultimate Vocabulary is the learning tool everyone can benefit from.
Of course, the software is also backed by eReflect's iron-clad money back guarantee.