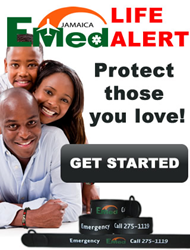 "WHEN YOU PREPARE FOR THE EMERGENCY THE EMERGENCY CEASES TO EXIST" Duane Boise Pres/Ceo stated.
Kingston, Jamaica (PRWEB) March 15, 2015
EMED JAMAICA LINKS EMED ALERT - Personal Health Record System to Emergency Ground and Air Ambulance Evacuation System
EMED JAMAICA LTD. (EMED), Jamaica's premier air and ground ambulance evacuation service today announced that it has designed and implemented the "EMED ALERT" PERSONAL HEALTH RECORD SYSTEM and electronic document management system for healthcare professionals and EMED group members, through its EMED healthcare technology solutions division. (http://www.emedphr.com)
This EMED exclusive member benefit became available December 1, 2014 to all of EMED's current and future clients. The EMED ALERT personal health record system will be a benefit for the EMED membership program to employee groups and individuals through out the Caribbean region.
EMED is a known leader and innovator in the ground, air ambulance, concierge medical employee group services, and medical technology solutions. EMED has positioned a fully equipped air ambulance aircraft at Tinson Pen airport, Kingston, Jamaica to provide services for Jamaica and Caribbean patients in need of emergency evacuation services. The company has a large membership base in its EMED LIFELINE membership program which will be offered the EMED ALERT Personal Health Record service.
According to CEO Duane Boise, "Air ambulance services need a service such as the "EMED ALERT" Personal Health Record System to have accurate medical information and maintain medical records for patients in times of an emergency. Offering "EMED ALERT" makes it easier for doctors, flight nurses and paramedics to have up-to-date health information that is accessible in a moment's notice via a secure Emergency Portal and readily available to our 24/7 communications center."
Bipin Thomas, CTO of design and development for EMED, said, "The importance of rapid response to critically ill or injured patients cannot be overstated. Those who follow these critical emergencies know the value of the EMED ALERT to emergency preparedness and we have made this a cornerstone of our health IT products and services.
The Jamaica Civil Service Association (JCSA), large resort hotel groups such as "THE TRYALL CLUB" http://www.tryallclub.com, Vinci Construction Company, and distribution and manufacturing companies have joined with EMED which enables us to serve a targeted group of customers and employees with a product that can both help save lives and accelerate the recovery process."
EMED ALERT makes it easy for patients to import medical records from all their doctors and maintain other important documents, such as insurance policies and immunization records, in one secure location. Built on proprietary, patented technologies, every EMED ALERT account includes a personal "EMED Lifeline" telephone number that can be used by all of one's doctors and healthcare providers to fax in medical records, which are then automatically viewable in the user's password-protected online account. The EMEDLifeline users can also upload and download documents and medical images directly from their computer to their EMED ALERT record.
About EMED JAMAICA, Ltd.
EMED, through its wholly-owned operating technology subsidiary Life Doxs Ltd., provides secure and easy-to-use online EMED ALERT Personal Health Records ("PHRs") and electronic safe deposit box storage solutions, serving consumers, healthcare professionals, employers, insurance companies, financial institutions, and professional organizations. The EMED ALERT PHR enables individuals and families to access their medical records and other important documents, such as birth certificates, passports, insurance policies and wills, anytime from anywhere using the Internet. The EMED ALERT PHR is built on proprietary, patented technologies to allow documents, images and messages to be transmitted and stored in the electronic medical record platform to populate a user's account.
The Company's professional offering, EMED ALERT®, is designed to give physicians' offices an easy and cost-effective solution to digitizing paperbased medical records and sharing them with patients in real time through an integrated patient portal. To learn more about EMED, and its products, visit http://www.emedhealthtechnology.com
About EMED JAMAICA AIR AMBULANCE
EMED Air Medical Services, headquartered in Kingston,Jamaica, supports operations throughout the Caribbean as well as in Kingston, Montego Bay,Negril, Ocho Rios, Portland, and Manchester Jamaica. EMED provides emergency ground, air medical transport services fixed-wing aircraft, medical assistance and has performed most all air ambulance missions in Jamaica since its inception in 2009. EMED has been accredited by the Medical Association of Jamaica, and the Jamaica Chamber of Commerce. For more information, visit http://www.airambulancejamaica.com