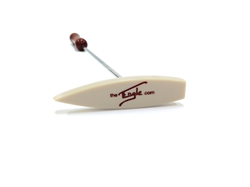 Austin, TX (PRWEB) March 16, 2015
It's very rare to see so many creative souls in the same place, all making their own sonic innovations. The makers of The Engle, the innovative new guitar hammer, are looking to capture the essence of the week at SXSW by interviewing some of these acts. Of all the sets they're waiting to catch and artists they're looking to connect with, they'd like to share with you five who are catching their ears in particular.
First and foremost, be sure to check out Jonny Gray. Last year alone he's premiered on The Today Show, MTV, and Vh1. Last year alone he was a finalist on The Voice. Last year alone he toured around the world. With all that said, his music speaks for itself. Plus Cee Lo Green compared him to Eddie Vedder, so there's that. See his showcase on 3/21 at Lambert's.
L'aupaire is the stage name of Robert Laupert, a phenomenal multi-instrumentalist whose gut-wrenching approach to his blues-influenced playing will stick with the listener. For this reason The Engle's creators hope to hunt him down for an interview. Check out his showcase at '18th Floor at The Hilton Garden Inn on 3/18.
The Last Bison has what one would expect of every folk act- an upcoming full-length album recorded in a log cabin. Let's just say they've earned their artistic license to do so, as the band is building buzz worthy and rightful comparisons to acts like Fleet Foxes. See these guys on 3/18 at Esther's Follies.
SubPop's very own Luluc is a fresh indie-folk duo- something people don't see a whole lot of. These guys (or guy and girl!) are eager to take it to the next level, and rightfully so. Their voices complement one another with grace, joining in beautiful harmony. See for yourself on 3/19 at St. David's Bethell Hall.
The duo game is taken a step further with Madisen Ward and The Mama Bear, an act consisting of Madisen and his mom, Ruth. The two have gotten mentions from Rolling Stone, Paste, and NPR, among others. Their familial bond can be felt in their musical chemistry, as they bring a gorgeous delivery of acoustic songwriting, which can be seen on 3/20 at Gatsby's.
That wraps up the list of five folk acts Engler Innovations hope to connect with this week. Be sure to check them all out. Also check out The Engle, the new innovative guitar hammer, over at theengle.com