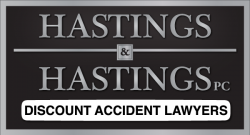 Phoenix, AZ (PRWEB) March 13, 2015
Hastings and Hastings, an automobile accident personal injury lawyer in Arizona reports record interest in discounted attorney fees throughout its 11 office locations in Phoenix. The firm has an established and respected reputation throughout the Phoenix community as well as among peers and with former and existing clients. Having earned the trust and respect of the community, Hastings and Hastings is a law firm that proudly serves clients who have been injured due to the negligence or malfeasance of another individual, company or government entity. Sustaining injuries due to someone else's errors, mistakes or poor judgment is often best handled by working with a professional personal injury attorney in Arizona.
Most importantly, when working with a dedicated legal team, injury victims often have a higher probability of gaining a favorable recovery. Hastings and Hastings is a law firm that is dedicated to providing noticeably impressive discounted lawyer's fees when it comes to personal injury related matters. The firm states in no uncertain terms that the discount fees made available to clients will never change throughout the entire duration of any recovery effort. This simply means that whether a personal injury matter is settled through aggressive negotiations with insurance companies or whether it requires full and comprehensive litigation, Hastings and Hastings will always stand by its original quoted fee.
Along with one clear and easy to understand fee, the firm also offers discounted fees that result in clients retaining a greater amount of an overall recovery. This can have a big impact on an accident victim's ability to better handle lost wages and the cost of ongoing medical care and treatment. Helping clients return to a more normal way of life is what the firm has been doing for more than 30 years. This has resulted in Hastings and Hastings enjoying a large number of referrals and repeat business over the years the firm has practiced.
Hastings and Hastings routinely works with accident victims who have been involved in everything from motorcycle accidents to slip and fall accidents and trucking accidents as well as bicycle accidents, pedestrian accidents and dog bite involved accidents. With a growing number of accidents occurring across the country and throughout Arizona, Hastings and Hastings has seen a steady increase in injury victims requiring experienced legal representation. This recent announcement with regard to the firm reporting record interest in discounted attorneys fees throughout its 11 office locations in Phoenix is just more proof that the firm continues to deliver on its promises of providing discounted fees, professional services and free consultations to injury victims who need this type of service the most.
Hastings and Hastings is a leading provider of discount personal injury legal services located in and serving the greater Phoenix Metropolitan area. This respected legal firm specializes in assisting individuals that have been the victim of serious injuries that have resulted from accidents that were not fault of their own. Hastings and Hastings is a trusted group of attorneys that deliver personalized service and guidance for injury victims throughout Phoenix and all across the state of Arizona. Hastings and Hastings is known throughout legal circles as a dedicated team of professionals and a law firm that has been representing accident victims throughout Arizona for decades. Hastings and Hastings has consistently exceeds client's expectations with regard to representing a wide array of accident related injury victims at times when it matters the most and always doing so with discount attorney's Fees.