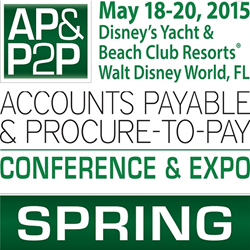 It's a wonderful event that brings the very best in our industry together and proves to be one of the most productive networking experiences of the year
Portland, ME (PRWEB) March 17, 2015
The AP Network, a division of the Institute of Finance & Management (IOFM), is pleased to feature Tradeshift as title sponsor for its spring AP conference, the Accounts Payable & Procure-to-Pay Conference & Expo, taking place May 18-20, 2015 at Disney's Yacht & Beach Club Resorts ® Walt Disney World ® Resort, FL.
"We're thrilled to be returning to this year's AP and P2P Conference, especially as a title sponsor. It's a wonderful event that brings the very best in our industry together and proves to be one of the most productive networking experiences of the year," said Christian Lanng, CEO of Tradeshift.
As the sole title sponsor, Tradeshift will sponsor the event's opening networking reception on Monday, May 18 in the exhibit hall. The company's support of the event will also include a 45 minute solution provider session the morning of Tuesday, May 19; participation in a "meet the sponsors" session; prominent branding throughout the conference venue; and an exhibit at booth 305 in the exhibition hall; among many other highlights.
"IOFM is pleased to have Tradeshift as the Accounts Payable & Procure-to-Pay Conference & Expo title sponsor," said IOFM Executive Director Brian Cuthbert. "It is increasingly important for AP and P2P professionals to learn about innovative processes and solutions so that they can continue to find ways to operate more efficiently," he added.
The three-day conference will kick off with a full day of a la carte workshops and AP certification classes and exams; complimentary solution-provider workshops; and an opening reception sponsored by Tradeshift. Days two and three will feature general sessions; two keynote presentations; four concurrent session tracks; roundtables; networking meals and breaks; and panel discussions. The full conference agenda can be found at http://www.iofm.com/agenda.
About Tradeshift
Imagine a place where all companies, big and small, come together to transact, connect and collaborate with each other. Now stop imagining and start participating. Tradeshift is a global business-to-business platform that helps companies run more efficiently, using cloud-based technology to improve processes like invoicing, workflow and supplier financing. For suppliers, Tradeshift delivers free electronic invoicing, faster payments and predictable cash flow. For enterprises, we empower them to work more easily and productively with their entire supply chain, anywhere in the world.
Launched in 2010, Tradeshift connects 500,000 companies across 190 countries. Businesses on the platform include ADM, DHL, the National Health Service (NHS) and CBRE. Tradeshift was awarded "Best Enterprise" at The TechCrunch Europa Awards and "Most Innovative Solution" by Financial-I. TechCrunch has also recognized Tradeshift for "Kicking Ass Globally". Gartner has highlighted Tradeshift in its IT Market clock for B2B Solutions as well as three Hype Cycles - Multienterprise Solutions, Application Infrastructure and Procurement and Sourcing Solutions. Tradeshift is headquartered in San Francisco with offices in Copenhagen, London, Paris, Suzhou, Tokyo. tradeshift.com
About IOFM
The Institute of Finance & Management (IOFM) is the leading source and largest provider of tools, resources, research, training, certification programs, and events in the rapidly evolving field of financial operations. IOFM runs three membership networks: The Accounts Payable Network (TAPN), The Accounts Receivable Network (TARN), and The Controller's Network (TCN). Membership helps professionals advance their careers and organizations improve their processes through access to proprietary information, best practices, and expert insights. IOFM is a business unit within Diversified Communications, a global organization operating on four continents and a major independent producer of events and media worldwide. For more information, visit http://www.iofm.com.