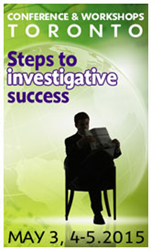 Best conference I've been to....thank you
Toronto Ontario (PRWEB) March 16, 2015
Fraud continues to plague Canada and costs sustained by the victim, as a result of the fraud or indirectly due to subsequent events such as the mishandling of investigations continue to mount. How do we keep pace? The Association of Certified Forensic Investigators of Canada (ACFI) will address relevant topics by leading professionals in the field, sharing knowledge and industry best practices.
Conference: May 4th and 5th, at the Westin Prince Hotel (Toronto) — Mr. Brian Greenspan, one of the most prominent and well-regarded defense lawyers in Canada with over 40 years of experience, presents the keynote address "Fraud Investigations" which will encompass the past, the present and what the future might hold for those involved in the profession.
Two Concurrent Workshops: May 3rd — led by Courtenay M. Thompson, recognized authority on fraud-related matters and Nejolla Korris, international expert in the field of Linguistic Lie Detection.
The 17th annual event has been designed to provide participants with the practical strategies and hands-on experience needed to manage the complex and often delicate issues that encompass fraud.
Steps to Investigative Success:
The Conference, "Steps to Investigative Success", will maximize learning opportunities, address challenges and opportunities and provide practical proven solutions. Outstanding, respected Canadian speakers fill out an exceptional program featuring three (3) tracks of concurrent sessions over two days to allow delegates to customize their learning program.
Day one will close with Mr. Mark Sandler of the well-known law firm Cooper, Sandler, Shime & Bergman LLP who, with 35 years experience, will bring his experience to bear, followed by a much-anticipated reception for discussions, networking opportunities with other professionals from across Canada.
Day two commences with RCMP Inspector Andrew Cowan, addressing the "Three E's of Major Case Management".
For those who are or are seeking to be experts, Mr. John Olah and Mr. Roman Myndiuk of Beard Winter LLP will address the recent Moore v. Getahun case that is a must as it affects the interaction between counsel and the expert.
A previous attendee stated:
"Forensic evidence coupled with knowledge has made it possible to detect, investigate and prosecute, where warranted, wrongdoing in ways never previously possible. This has resulted in requirements for advanced skill development by investigators accompanied by higher standards set out by the courts. Thanks for keeping me up to date".
Early sign-up savings and group rates are available. For additional information on the itinerary, and specific course outlines and speakers, visit http://www.acfi.ca.
Pre-Conference Workshops:
Workshop A, "Corruption & Conflict of Interests" led by Courtenay M. Thompson, will address corruption & conflict of interest. Participants will explore what can go wrong in contracting; transparency and surfacing problems; conflict of interest; practical approaches to gifts and entertainment; building detection of procurement fraud into routine audits; using data mining for kickbacks and conflict of interest; and lessons from around the world related to construction, IT and other contracting. Previous attendees have reported detecting fraud or overcharge immediately after the training.
Workshop B, "Detecting Deception in Interviews and General Discussions", led by Nejolla Korris, will concentrate on learning how to gather truthful information from employees, managers, and clients. This overview presents how linguistic lie detection is used in business, audit, and investigative areas to have more effective business relationships. Instruction on information gathering and interpretation will be explained, as well as how linguistic lie detection techniques can be applied to a variety of high-profile media cases to illustrate examples of deception. This workshop is be a must for those new to the area of fraud as well as those who are more seasoned.
Forensic investigation is a growing and diverse profession, which combines various aspects of science and technology with the legal system. The Association of Certified Forensic Investigators of Canada (ACFI) is a national forum and fostering arena for those interested in fraud prevention, detection and investigation.