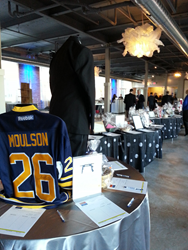 "We'd like to thank our sponsors, donors, volunteers, and guests for making Fire & Ice a tremendous success. Their support will enable the Council to continue to provide Scouting experiences for Western New York youth." – William Mattar, Chairman
Buffalo, NY (PRWEB) March 13, 2015
Last night, hundreds of guests gathered at The Foundry to celebrate Scouting in Western New York with Fire & Ice, a Culinary & Visual Extravaganza. The annual event, which benefits the Boy Scouts Greater Niagara Frontier Council (GNFC) featured music, entertainment, delicious food, and premier auctions.
All proceeds raised will be used to support the GNFC's programs for local youth. There are currently 10,000 youth members throughout Western New York, including young men ages 6-20 and young women ages 14-20. More information about Scouting in Western New York can be found by visiting http://www.wnyscouting.org
Eagle Scout and local personal injury attorney, William Mattar served as Chair of the Fire & Ice event. As a youth, he participated in the Scouting program, reaching the highest rank of Eagle Scout. As an adult member, William Mattar has been a volunteer leader at the Troop level and the Council level, and is a recipient of the Silver Beaver Award for distinguished service to youth.
The Boy Scouts of America is one of the nation's largest and most prominent values-based youth development organizations. The mission of the BSA is to prepare young people to make ethical and moral choices over their lifetimes by instilling in them the values of the Scout Oath and Law.