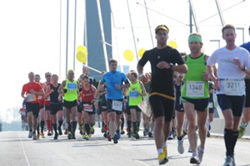 The event was also recognized at the Athens Marathon in Greece with the "Marathon Flame," making official its status among the top marathons in the world.
Düsseldorf, Germany (PRWEB) March 13, 2015
Thousands of runners from all over the world discover Düsseldorf for pleasant and record-oriented marathon running each year, just as visitor numbers break records year after year in one of Germany's fastest growing cities for tourism. About 18,000 runners will participate at this year's METRO GROUP Marathon on April 26, a massive increase from last year's 16,000.
One reason for the event's popularity is that the route itself is one of the most interesting for runners and spectators alike. It includes all of Düsseldorf's main tourism attractions, among them the Rhine River promenade, the historic Old Town, super-modern Media Harbor, and shopping boulevard Königsalle. Plus, Düsseldorf loves big events -- the city is home to some of the biggest Carnival celebrations and parades in Germany – and locals carry the party atmosphere to the marathon for extra fire under the runner's feet. More than 400,000 people line the street, often in costumes and with instruments and noise makers.
Last but not least, the city's elevation and the flat route make Düsseldorf's marathon a serious place for record seekers, and several record times have already been set: Ethiopian Dereje Debele Tulu achieved the new route record of 2:07:48 in 2013, while Kenyan Agnes Jeruto set the new women's record at 2:25:49 in 2012.
The event was also recognized at the Athens Marathon in Greece with the "Marathon Flame," making official its status among the top marathons in the world.
Apart from top world runners, two unusual groups are also part of the race, adding to its appeal for a wide audience: Teenagers and young adults can participate (their route is shorter and eventually separates), and corporate teams play a big part. In fact, the "Road Relay Race" is so popular among corporate teams that the number this year will reach about 3,200, up from 2,500 last year.
Registration is open until April 12, 2015.
For more information and to register, please visit http://www.metrogroup-marathon.de/.
Düsseldorf's tourism office is offering hotel and city specials. The package, called "METRO GROUP Marathon Düsseldorf 2015," can be booked right from the tourism office's website at https://www.duesseldorf-tourismus.de/en/accommodation/hotel-packages/marathon/. Prices currently start at €45 per night per person based on double-occupancy for a 2-3-star hotel in the city center and at €75 per person for a 4-star hotel. The package includes breakfast, a 10% discount on the registration fee for METRO GROUP Marathon 2015, one DüsseldorfCard (free public transportation within city limits plus nearly 50 free or reduced admissions to city attractions), and a city information package. Please check the website for current information.
# # #
Düsseldorf Marketing & Tourism GmbH is the visitors and convention bureau of the city of Düsseldorf. Its responsibilities include tourism and city marketing, as well as conference and meeting marketing, hotel reservation services, fairs and convention services, city event ticket sales and advance ticket reservations. For more information, visit http://www.visitduesseldorf.de.
Düsseldorf Airport, Germany's Next Generation HubTM, offers several non-stop flights from US & Canadian cities (Atlanta, Chicago, Ft. Myers, Los Angeles, Miami, New York, Newark), as well as convenient connections to many European cities. For more information about the airport, visit http://www.dus.com.