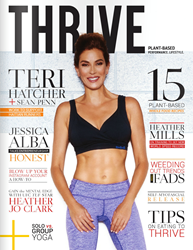 Las Vegas, NV (PRWEB) March 17, 2015
Actress and philanthropist Teri Hatcher is posing on the cover of the latest issue of Thrive Magazine wearing pieces by BaliniSports. Ms. Hatcher joins a long list of celebrities who have been photographed in pieces from BaliniSports, including Kim Kardashian, Carrie Ann Inaba, and celebrity trainer Tracy Anderson.
Thrive Magazine is a publication that features personal interviews and intimate conversations with influential and successful people in the worlds of entertainment, business, and fitness. The magazine's columns and inspirational stories are contributed by a variety of highly respected yoga teachers, sports and nutrition columnists, and entrepreneurs. The publication also highlights today's social causes. Celebrities featured in the issue on which Teri Hatcher graces the cover include Bill Gates, Jessica Alba, Harrison Ford, Sean Penn, and Tony Hawk.
"I can't think of a more perfect place for our yoga apparel to be featured than on the cover of a socially conscious, dynamic publication like Thrive Magazine," said Ada Hung, founder of BaliniSports. "The magazine is all about helping people thrive and live their best lives, and so is BaliniSports. We feel that the magazine promotes the same principles of personal freedom, empowerment, and being good to the planet that are the backbones of our brand."
BaliniSports is a clothing brand that produces high-performance yoga apparel using environmentally friendly means in the United States. The brand's line consists of pieces constructed using the latest in fabric technology and anti-moisture wicking technology. The brand vows to avoid using harsh chemicals and dyes during the production of its line of yoga pants, capris, tops, bras, bra attachments, and shorts.
While posing in a pair of Yogini Yoga Capris from BaliniSports, Ms. Hatcher explains to the publication that she is currently training for her first marathon to raise money for actor Sean Penn's Haiti Charity. She opens up to Thrive about how she maintains motivation and spends time training in the canyons near her home in the Hollywood Hills.
"I think Teri Hatcher looks fabulous in our Yogini Yoga Capris," added Hung. "I think she embodies the type of strong, modern woman that uses our apparel to perform at the gym and on the yoga mat and look great while having fun with friends. We wish her all the success in the world as she trains for the New York City Marathon and helps a cause that we at BaliniSports believe is very worthy."
Thrive Magazine is available online and on newsstands. The Yogini Yoga Capris worn by Teri Hatcher on the cover of the current issue of Thrive Magazine can be purchased at BaliniSports.com.