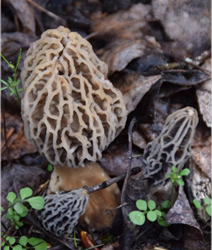 I put my patch together last fall and it is producing small (5) amounts. (In Arizona believe it or not!) They are late but I didn't even expect any the first year."
Sebastopol, CA (PRWEB) March 16, 2015
Spring is the time to start thinking about growing morel mushrooms in your backyard with Gourmet Mushroom Products' (GMHP) Morel Habitat Kit.
The secret to cultivating mushroom mushrooms eluded mankind for hundreds of years until in 1982; however, GMHP developed the Morel Habitat Kit over 25 years ago so now everyone can enjoy growing morels in their backyard and have a personal supply of fresh morel mushrooms: Morchella esculenta the "good to eat", large, late season white morel. Jeff Topper, St Louis, MO reported: "This morning I found our very first morel mushroom in our mushroom garden! I planted this garden last spring and used the Morel Habitat Kit that I purchased from Gourmet Mushrooms & Mushroom Products". Morel Habitat morels have the same flavor and quality as morels found in the wild.
Morel Habitats are perennial and may be started any time your soil is workable. Morel Habitats may be started in any type of soil and have produced morel mushrooms in all areas of the United States that have a definite transition from winter to spring. We provide spawn (seed) which contains our unique morel strains and will allow you to seed a back yard Morel Habitat which can produce morel mushroom each year in a properly maintained 4' X 4' area. Customers have found morels in their Morel Habitat 25 years after they were established!
You may already have everything to create a Morel Habitat and cultivate morels in your own backyard since everybody with a yard has most of the materials needed to create and maintain the Morel Habitat. Complete instructions for preparing and maintaining your Morel Habitat are included.