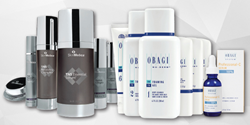 Washington, DC (PRWEB) March 14, 2015
LatisseMD, Black Diamond Allergan Partner and number one online reseller of Latisse, is going beyond the lashes. Now through the end of March clients can save up to 40% on premium skincare products from SkinMedica and Obagi. Transform complexions and see results for every skin type with these innovative product lines. Whether clients are suffering from acne or wrinkles, LatisseMD has the solution for everyone.
Obagi products are at an all time low discount of 30% off, no coupon needed. Choose from pre-packaged products like the Nu-Derm, C Rx and CLENZIderm systems, or contact LatisseMD's phenomenal sales associates to get a recommended product or pairing made especially for the individual's skincare needs. Obagi Medical Products, Inc., is a global specialty pharmaceutical company founded in 1988, and now owned by Valeant Pharmaceuticals International, Inc. Obagi products are designed to minimize the appearance of premature skin aging, skin damage, hyperpigmentation, acne, and sun damage.
SkinMedica is a leading skincare line by Allergan, the manufacturer of Latisse, the leading and only FDA-approved eyelash serum. Using coupon code SKINMED40 at checkout, clients can save 40% and see "The SkinMedica Difference." As people age, collagen production diminishes, skin thins and elasticity decreases causing facial sagging, fine lines and wrinkles. SkinMedica products are scientifically formulated and clinically tested to rejuvenate skin and help rekindle skin's youthful appearance.
Take advantage of these amazing, limited-time offers before they're gone.