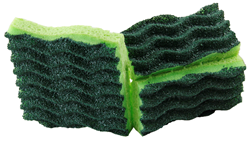 Arcola, Ill. (PRWEB) March 16, 2015
While most Americans are happy to say goodbye to winter this year, ushering in spring has its own set of challenges, including the age old tradition of tackling spring cleaning chores. The Libman Company, a 119-year old manufacturer of household cleaning products, is ready for the task and has added five new products to its line.
The Libman Company has long recognized that consumers are the front line to cleaning and subsequently the best source of feedback when it comes to the design and functionality of cleaning products. The five newest products from Libman were designed based on input from and research of customer's challenges with everyday cleaning products.
Libman has taken common cleaning products and tweaked them to provide better functionality and ease of use for those of us in the cleaning trenches. These products are made in the U.S.A. and meet the high quality standards one can expect from a Libman product. Libman's new products include:
Upright Dustpan (Model #2120)
Not your mother's dustpan. No more bending over or stooping needed to pick up dirt and debris. The Upright Dustpan comes with a convenient extra-long handle for comfortable sweeping. Its wide mouth fits most brooms and the "teeth" are molded into the dustpan to remove debris from broom fibers.
Suggested retail price: $11.99
Easy Grip Power Scrubber (Model #2105)
Say "goodbye" to damaged hands and nails after doing dishes. This new contoured sponge of the Easy Grip Power Scrubber offers powerful scrubbing surface on one side and soft synthetic sponge on the other. The product is ergonomically shaped to keep nails and fingers out of the way, while providing enough pressure to scrub the toughest surfaces. It lifts stuck-on food without scratching surfaces and easily rinses clean. Suggested retail price: $2.99
Selector Sponge (Model #1084)
No more cutting a sponge to get the desired size. This new overused sponge is perforated in three different sizes, so one can decide how much sponge is needed for the job. The Selector Sponge's Easy Rinse Ripples™ - deep grooves on the scouring side of the sponge - provide constant contact with the surface to remove all of the mess. No more ruined sponges due to cheesy messes. Suggested retail price: $3.99
Microfiber Sponge Cloth (Model #2103)
This new product combines the best of a sponge and a dish cloth. The thin sponge is covered in a pillow-weaved microfiber cloth. The durable cloth is able to lift dirt and grime without streaking and is super absorbent to soak up spills. The Microfiber Sponge Cloth is machine washable and comes in a 3-pack of attractive colors to match most any kitchen décor. Suggested retail price: $3.99 (3-pack)
Freedom® Disposable Mop Cloth (Model #4009)
Some messes are so messy that it's easier to just toss the entire pad away instead of washing it. The Freedom Disposable Mop Cloth allows for just that. The product features an easy-on Velcro attachment that adheres easily to the bottom of a Freedom Spray Mop. The super absorbent cellulose pad won't scratch floor surfaces. Excellent used for wet messes or used dry for daily dusting. Suggested retail price: $2.99 (3-pack)
Libman products are sold at national retailers across the country including WalMart, Kroger, Home Depot, Target, Lowe's and Menards. To check out more of Libman's cleaning product offering, visit http://www.libman.com.
About The Libman Company
The Libman Company is a family-owned company that has been making quality cleaning tools since 1896. The company manufactures products from brooms and mops to more specialized tools for kitchen and bathroom cleaning and industrial uses. Libman proudly manufactures most of their products in the United States, including the company's well-known Wonder® Mop. For more information about the Libman Company, please visit http://www.libman.com.
# # #
TO REQUEST PRODUCT SAMPLES OR HIGH RES IMAGES
Please contact Stacey Vaselaney at:
(216) 905-0908 or slvaselaney(at)slvpr(dot)com