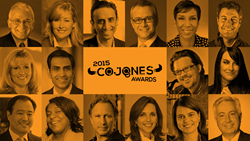 "Marketers who play it safe today will be roadkill tomorrow. We celebrate those who have the cojones to be bold and different."
Austin, TX (PRWEB) March 15, 2015
Last night, marketing leaders from Cisco, D&B, Dell, Keds and Sephora were named the 2015 Cojones Awards winners. Members of the Class of 2015 were presented their awards during SXSW Interactive at an event hosted by modern marketing agency nFusion and its CEO John Ellett (@jellett), author of "The CMO Manifesto."
The Cojones Awards celebrate the boldest modern marketers who disrupt the status quo and find compelling new ways to engage digitally enabled, socially connected customers.
"With so much changing in the marketing world today, those who sit still are in peril," said Ellett. "We're proud to recognize the winners and finalists who demonstrate that being bold, disruptive and inspirational is the best way to succeed in the era of modern marketing."
The 16 finalists garnered almost 2,000 Twitter votes over a two-week Tweet2Vote campaign, which helped the expert panel to select this year's winners.
The following are the 2015 Cojones Award winners for courageous marketing, recognized in five categories.
Inspire: to build authentic brands with a sense of purpose: Chris Lindner, Brand President, Keds; CMO, Saucony.
Lindner had the courage to inspire the brand purpose for Saucony, Sperry Topsiders and Keds with the belief that "brands can make a difference in the world."
Finalists included: Jon Iwata, IBM; Jeff Jones, Target; and Marc Mathieu, Unilever.
Be Bold: to disrupt the status quo and break out of the sea of sameness: Rishi Dave, CMO, Dun & Bradstreet.
Dave had the courage to take an unconventional approach to redefining a 173-year-old B2B brand.
Finalists included: Jerri DeVard, ADT and Mark-Hans Richer, Harley-Davidson.
Connect: to deliver meaningful customer experiences across channels: Karen Quintos, CMO, Dell.
Quintos had the courage to deftly marry data science, marketing technology and artful storytelling to relaunch the "world's largest start-up."
Finalists included: Zita Cassizzi, TOMS and Alfredo Gangotena, Sotheby's.
Innovate: to implement new ways of engaging customers living a digital lifestyle: Bridget Dolan, VP of Interactive Media, Sephora.
Dolan had the courage to pioneer the innovative use of Color IQ data and customer-shared beauty tips to enrich the buying experience of Sephora's loyal customers.
Finalists included: John Costello, Dunkin' Brands and Sanjay Gupta, Allstate.
Transform: to build organizational capabilities to become modern marketers: Blair Christie, CMO, Cisco.
Christie had the courage to transform the high-tech products company into a customer-centered solutions, content marketing machine.
Finalists included: Beth Comstock, GE and Telisa Yancy, American Family Insurance.
The winners were announced at a private reception Saturday, March 14 in Austin, Texas.
"This year's Cojones Awards winners are great role models for marketers who want to lead positive change for their companies," added Ellett. "While each of their stories is unique, they share the common attribute — courage — which has been critical to their success."
Download the e-book "How to Be Bold: 50 Tips for Modern Marketers," a collection of wisdom from the winners and finalists of the 2015 Cojones Awards.
About nFusion
nFusion is the agency for today's modern marketer. We know that customers expect relevant, personalized content at each touch point, regardless of time of day, device or location. We help marketers and brands deliver on this promise by uncovering audience insights, mapping persona-based customer journeys, creating compelling content and delivering engaging digital platforms. Headquartered in Austin, TX, we partner with B2B and consumer clients SanDisk, AMD and Samsung. nFusion is proud to have been recognized by AdAge as Small Agency of the Year - Southwest in 2014. Follow nFusion on Twitter, LinkedIn, Facebook or the agency website: http://www.nfusion.com.