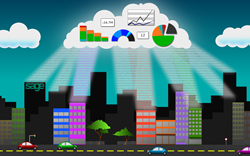 Existing subscriptions and any new subscriptions taken out before the end of April will not be affected by the price increases
Dublin, Ireland (PRWEB) March 16, 2015
From the end of April, the price for new subscriptions to the online account management service Suntico will increase by up to 97%.
"Since we introduced Suntico, we have added significant extra capabilities to the service and this will continue. Suntico has always represented remarkable value and it is time now to start bringing the pricing into line." says Hugh Johnson, SVP Business Development at Suntico.
New features added since Suntico was introduced last year include:
Backorder information
Account territory management
Account team management
Record tagging
Groups (rather like LinkedIn Groups) for connected colleagues
Transaction line-item lists and search
Multi-user tasks linked to Sage records
Multi-user events linked to Sage records
MailChimp integration
Email notifications
Dynamic lists
Dynamic record following
The entry-level two-user subscription remains at the same price at $15 per month, but will now have an upper limit of 1,000 invoices. A new 40-user subscription with up to 50,000 invoices will now cost $580 per month from the beginning of May, compared with $295 per month currently.
The old and the new prices are as follows:
A "Little" subscription will remain at $15 per month.
A "Growing" subscription for up to 10 users will increase from $95 to $145 per month.
A "Big" subscription for up to 20 users will increase from $195 to $290 per month.
A "Biggest" subscription for up to 40 users will increase from $295 to $580 per month.
View the current prices and features of Suntico.
"Existing subscriptions and any new subscriptions taken out before the end of April will not be affected by the price increases. The old pricing will be honored for the lifetime of any subscription to an old plan" says Hugh Johnson.
There is therefore a significant incentive for new clients to subscribe before the end of April, or for any existing clients to upgrade to a larger plan to lock in the old prices.
About Suntico:
Suntico is an online account management solution, providing a real alternative to a traditional CRM for companies using Sage 50 software. It provides business managers and sales representatives with instant access to relevant business records, notes, discussions and tasks from any web-enabled device.
It is currently available for Sage 50 Accounting US (formerly Peachtree), Sage 50 Accounting Canada (formerly Simply Accounting) and Sage 50 Accounts in the UK and Ireland.