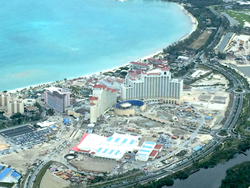 "There is absolutely no better way to travel to Nassau than on one of our seaplanes" said Tropic Ocean Airways CEO Rob Ceravolo.
Fort Lauderdale, FL (PRWEB) March 17, 2015
Tropic Ocean Airways is pleased to offer a pre-booking special aligned with the opening of Baha Mar. Reserve a flight from Miami Seaplane base to Nassau, Bahamas to experience Baha Mar first hand in the month of March. Mention promo code "Baha200" and get $200 off the flight.
Baha Mar, described as the Bahamian Riviera, will open it's doors March 27th with upscale hotels, the Caribbean's largest casino, restaurants, bars, shopping, sports, sandy beachfront and elaborate pools linked by paths of lush landscape.
Experience Tropic Ocean Airways first-class customer service as you fly out of Miami Seaplane Base and arrive at the Odyssey Private Terminal in Nassau, Bahamas. Two highly experienced pilots operate the one-hour flight in new Cessna aircraft for your comfort and safety. Each seat offers spectacular views of South Beach, downtown Miami, and Biscayne Bay as you take off from Watson Island, Miami and cruise over crystal blue waters before arriving to Nassau, Bahamas.
"We [Tropic Ocean Airways] are looking forward to the opening of Baha Mar in Nassau's Cable Beach, and are pleased to provide a convenient, reliable and exciting sea to runway travel experience for guests out of Miami aboard our new fleet of Cessna aircraft," said Tropic Ocean Airways CEO Rob Ceravolo. "If you live in or are visiting Miami there is absolutely no better way to travel to Nassau then on one of our seaplanes. You can arrive at our seaplane terminal within 15 minutes of most locations in Miami, and will be boarding your flight 15 minutes later. Upon landing in Nassau you will clear customs at a private location, avoiding long lines at the main terminal."
Whether traveling to a secluded resort, private yacht or residence, with Tropic Ocean Airways going the extra mile is what you should expect. The airline offers safe and reliable private charters, scheduled flights, cargo transportation, as well as provisioning services to meet customer needs.
About Tropic Ocean Airways:
Founded in 2009 by US Navy TOPGUN Graduate Rob Ceravolo, Tropic Ocean Airways LLC is an FAA-certified air carrier specializing in private terminal service throughout Florida and the Caribbean. Tropic Ocean Airways fleet of late-model Cessna Caravan Amphibians and wheeled aircraft are handled by highly experienced military aviators and seaplane instructors providing service to private travelers as well as companies and organizations within the yachting and boating industry.
For more information please visit http://www.flytropic.com or their sites on Facebook and Twitter.
For media contact please mail Tropic Ocean Airways: media(at)flytropic(dot)com
More information regarding Baha Mar, please visit http://www.bahamar.com