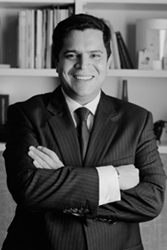 Watsonville, CA (PRWEB) March 13, 2015
Dr. Andres F. Herrera now accepts patients from Watsonville, CA for dental implants, a permanent solution to missing teeth. Dental implants are rooted to the jawbone so they mimic the performance of the original teeth. Unlike denture wearers, patients who opt for implants are able to experience a full range of food options and smile naturally without feeling embarrassed or self-conscious.
Tooth roots are anchored solidly into the jawbone to support the tooth. This is not the roots' only function, though. They also provide critical stimulation to the bone to prevent density loss. When a tooth is lost due to an accident or an extraction, the empty socket heals, but the bone does not fully regenerate. Within the first year, the bone will lose a significant portion of its height and thickness. As it shrinks, surrounding teeth shift, and they may also loosen. Individuals in Watsonville, CA who have many teeth missing will discover that their facial structure shrinks, adding years to their appearance.
Traditional dentures sit on top of the gums, so they cannot prevent bone loss. The lack of a firm anchor may also cause the wearer some insecurity about the ability to eat crunchy or chewy foods. As the bone deteriorates, dentures cease to fit properly and begin slipping, clicking and chafing.
In Watsonville, CA, Dr. Herrera replaces missing teeth with dental implants. A titanium post is surgically placed into the jawbone and as it heals, the jawbone and the post fuse together creating a solid support. After the healing process is complete, a crown is affixed to the top of the post, completing the new tooth. Implants can be treated the same as natural teeth, and require the same dental hygiene practices.
Patients who are interested in learning more about dental implants or would like to schedule a consultation are encouraged to visit Dr. Herrera's website or call his office at (831) 740-8073. Patients who mention this release will receive a complimentary consultation.
About the Doctor
Dr. Andrés F. Herrera is a general dentist and oral surgeon with True Bite Oral Surgery and Implant Center, with locations in both Salinas and Freedom, CA. Dr. Herrera received his Doctorate in Dental Surgery degree from the Pontificia Universidad Javeriana and completed a six year Oral and Maxillofacial Surgery residency at Loyola University Medical Center in Chicago, IL. Dr. Herrera is currently a Diplomate of the American Board of Oral and Maxillofacial Surgery and the American Association of Dental Anesthesiology. Dr. Herrera is committed to continuing education and providing patients with individualized care. To learn more about Dr. Herrera and the dental services he provides, visit his website at http://www.montereypeninsulaoms.com/. You can also call the Salinas Office at (831) 269-3533 or the Freedom Office at (831) 740-8073.