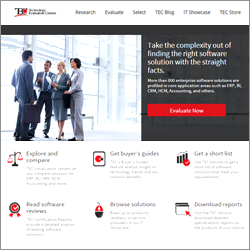 "We apply all of our experience and resources to one end: helping companies find the best-fit software," says Lorne Goloff, VP of Software Selection Services at TEC
Montreal, Quebec (PRWEB) March 16, 2015
Technology Evaluation Centers (TEC) is pleased to announce the launch of its newly re-designed website at http://www.technologyevaluation.com. The new website features improvements to make it easier to find research and to compare leading enterprise software solutions for its global audience of 3.8 million business owners, company executives, and IT professionals.
TEC provides a high-value service that is increasingly in demand in the marketplace. For many years, companies and organizations have been seeking better ways to evaluate and select software solutions, as modern enterprise software is highly complex, and there are a large number of software solutions available for every software category. Many companies find it difficult to successfully conduct an enterprise software selection or assessment project because of this built-in complexity and wide range of choice, as well as a general lack of experience and the right in-house skills required for software selection at the organizational level.
TEC offers a one-stop solution to these issues. Visitors come to the TEC website to gather information on enterprise software solutions and to make use of online tools and services, most of which are provided free of charge, to help them evaluate and select the best enterprise software for their organizations' unique needs.
Improvements to the site include a quicker way of filtering and browsing through the software research library with over 20,000 buyer's guides, white papers, case studies, and market reports, many of which are produced by TEC's software research analyst group. This research gives organizations the opportunity to be better informed about the types of software solutions available and to keep up with changes and trends in the enterprise software market.
Additionally, the TEC website facilitates comparing and analyzing leading software solutions online via its patented decision support system, TEC Advisor. With the industry's most comprehensive database of features and functions for over 1,000 software solutions in over 40 categories including enterprise resource planning (ERP), business intelligence (BI), customer relationship management (CRM), supply chain management (SCM), and accounting, TEC Advisor enables companies to compare software solutions head-to-head in a fraction of the time it would take using other methods.
"We apply all of our experience and resources to one end: helping companies find the best-fit software," says Lorne Goloff, vice president of TEC software selection services. "It's a service many companies require, and we are ideally positioned to assist them through any and all phases of the software selection process—online and onsite."
TEC will continue to improve and refine its website in order to provide its visitors with the highest possible level of information, service, and assistance.
For more information about TEC's software selection services, contact +1 514-954-3665, extension 404, or e-mail selectionservices(at)technologyevaluation(dot)com
About Technology Evaluation Centers
As the world's leading online provider of software selection tools, services, and research materials, Technology Evaluation Centers (TEC) helps companies and organizations evaluate and select the best enterprise software for their needs. With its software selection expertise and advanced decision-making software, TEC also helps reduce the time, cost, and risk associated with enterprise software selection. Today, TEC is recognized as an industry-leading software selection advisory firm with more than 400,000 subscribers to its information services and software evaluation and selection tools. For more information, please visit http://www.technologyevaluation.com.