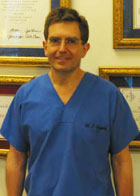 Bethlehem, PA (PRWEB) March 13, 2015
Dr. Joseph Gaspari, a periodontist in Bethlehem, PA, is newly certified in the Pinhole Surgical Technique™, a less invasive treatment for receding gums. The doctor is now performing the procedure at his practice, Gaspari Family Dental Care. Gum recession can be caused by a variety of factors, including periodontal disease, poor dental hygiene, hormones, the use of tobacco products, and clenching and grinding the teeth. Aggressive tooth brushing techniques and genetics may also contribute to the condition.
Patients are often unaware they are suffering from gum recession until the condition is advanced. Tooth sensitivity and the elongated look of the teeth may be the first sign that patients notice. The gums can recede so far that the roots of the teeth become visible. This may often make the tooth feel notched at the gum line. Additionally, there may seem to be more space between the teeth because the gums are no longer properly filling that space. If left untreated, the condition can lead to further problems with gum disease, tooth decay and infection, and tooth loss.
When patients visit Dr. Gaspari for treatment of their receding gums, they often expect to have to endure painful gum grafting surgery. This may prevent many people from seeking treatment at all. However, the Pinhole Surgical Technique™ is a less invasive option that allows the doctor to treat the condition without incisions or sutures. When Dr. Gaspari performs the procedure, he places a small pinhole in the gums where there is recession. The doctor works through that small hole using small, specialized tools that were created just for this procedure. The tools help him to gently move the gums to cover the receding areas. Instead of sutures, the doctor uses strips of collagen to hold the gums in their new position until healing occurs.
Patients in need of treatment for their receding gums should not put it off. They are encouraged to schedule an appointment with Dr. Gaspari, a leading periodontist in Bethlehem, PA. Those who are interested in learning more about the Pinhole Surgical Technique™ or who wish to make an appointment are welcome to visit the doctor's website or call (484) 821-2974.
About the Practice
Gaspari Family Dental Care is a general and periodontal practice offering personalized care for patients in Bethlehem, PA. Dr. Joseph A. Gaspari is a Fellow of the International Congress of Oral Implantology and Misch International Implant Institute, and a member of the American Academy of Periodontology. Dr. Gaspari is a graduate of the University of Pennsylvania's School of Dental Medicine, Temple University's School of Dentistry with his Cerificate in Periodontology, the Misch International Implant Institute for certificates in Surgical and Prosthetics, and is IV Sedation Certified by St. Joseph's Medical Center. To learn about the services offered at Gaspari Family Dental Care, please visit their website at http://www.drgaspari.com or call (484) 821-2974.