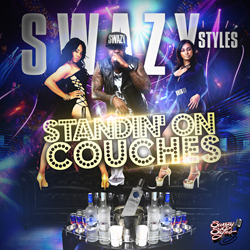 Swazy Styles"Mr Standin On Couches" Follow @swazystyles
(PRWEB) March 20, 2015
Presently in Hip-Hop, you must possess not only a unique talent, but diversity that can attract others outside of your market.
Over the past 5 years Swazy Styles has released electrifying catchy party anthems that has been shaking up the clubs in the southern hemisphere. With a major impact on radio and in the clubs, Swazy continues to make his presence, especially in the greater Atlanta and Miami region. http://www.swazystyles.com
Swazy Styles, born David J. Smith, is excited to release his brand new single "Standin On Couches" to the masses to turn up the heat with amped-up party rhymes and innovative styles. The infectious single, produced by hitmaker CP Hollywood (Diddy, Keri Hilson, Trina, Ace Hood) is now available for download on iTunes and all other media outlets.
The southern hipster has been holding down the clubs in Florida for years with smashing party singles such as "Birthday Suit" Feat. Lil Jon (2010), "Like This" (2011), Go Numb (2012) "You Already Know" Feat Rick Ross (2012), Party Bus" (2013), and now with his latest offering, "Standin On Couches" (2014). "Standin On Couches Dub Step Remix" (2015) which is available for download on iTunes (click the following link to download: http://www.TinyURL.com/l3szkbh).
Swazy is Known for his banging beats, crazy wordplay, and extraordinaire delivery. Swazy Styles has created another out the box party anthem with "Standin On Couches", which is already in heavy rotation on radio and in clubs from coast to coast.
With the passion, diversity, and display of reality Swazy delivers in his music, it's only a matter of time before this rising star solidifies his position in the entertainment business. To watch the official Standin On Couches video click the following link: http://swazystyles.com/swazy-styles-standin-on-couches-official-video-560.
Swazy Styles is the CEO of his own independent record lebel (Triple R Records ) which was founded in 2012. Since then he has been building his team of Dj's (Triple R Dee Jays) , Models (Triple R Divas) , and Clothing line (Triple R Apparel). This Artist/ Actor/ Model/ Entrepreneur, has been dedicated to his artistic ability since 1999 leaving the on lookers wondering what will be his next move. To review Swazy's Epk and Bio please visit http://swazystyles.com/biography. For booking please contact Smitty 646-801-7609.