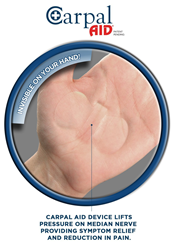 Carpal Aid™ Palm Strips provide functional support and temporary relief from the strain and pain of Carpal Tunnel Syndrome
Los Angeles, California (PRWEB) March 18, 2015
Carpal Aid, LLC is proud to announce an FDA registered scientific breakthrough in the invention and production of the Carpal Aid™ Palm Strips for functional support and temporary relief from the strain and pain of Carpal Tunnel Syndrome. It is a non-invasive, patent pending and clinically proven medical device that is used externally in the palm of either hand. The single use disposable product provides relief through lifting skin away from the pain inducing median nerve in the palm. Carpal Aid™ is available directly from the manufacturer at http://www.CarpalAid.com, and will be available in retail stores nationwide starting in the summer of 2015.
Carpal Aid™ Features & Benefits:

Provides hand functional support
Provides help for hand numbness
Promotes restful sleep
No side effects
Non-invasive
No drugs
Disposable device
Plastic material is invisible on your hand
Device works on both hands
The patent pending skin lifting mechanism developed by our research and development team provides the median nerve with the respite required from the compression that it has succumbed to. By lifting the skin above the Carpal Tunnel ligament in the wrist/palm area the pressure applied to the nerve is removed while the palm strip is in use.
About Carpal Aid, LLC: Carpal Aid, LLC handles sales, marketing and distribution of the Carpal Aid™ Palm Strip worldwide. For additional information on Carpal Aid, please visit http://www.carpalaid.com, email info(at)carpalaid(dot)com, or call 1-877-877-5332