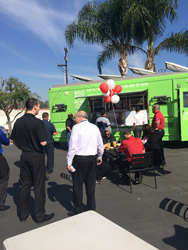 Orange, CA (PRWEB) March 15, 2015
People can talk about helping, but Villa Ford's Blood Drive saw volunteers walk in and back it up! That was the reaction of General Manager Scott Wade when the final tally came to 18 units of blood donated during the recent February event associated with the dealership's Community Connect initiative. "You never know what to expect when you ask for a blood donation," noted Wade, "but when you realize how much good is going to come from those 18 units, it made for a Fabulous February!"
Villa Ford, a part of The David Wilson Automotive Group, conducts blood drives several times a year and as Wade points out, "We never cease to be amazed how our employees step up – of course, they do get a coke and a cookie," he said laughingly. With a giant array of balloons surrounding the blood mobile, contributors included employees as well as Villa Ford customers. "Many of our customers know the scope of our Community Connect program," said Wade, "and we could not make this kind of contribution without their support." Community Connect also lends a hand with support and sponsorship of local schools, universities and civic groups.
Villa Ford is located at 2550 N. Tustin Street in Orange County and directions can be found at VillaFord.com. Wade invited anyone interested in learning more about Community Connect to log on and click the logo.
ABOUT DAVID WILSON
The David Wilson Automotive Group specializes in the retail sales and service of vehicles and related automotive products and had its beginnings in 1983 when David Wilson, the new general manager of Toyota of Orange, purchased 25% of the dealership. Between 1983 and 1985 sales volume increased from 2,500 vehicles per year to over 8,000 vehicles per year, with their "customer service first" approach quickly resonating with consumers.
Since then the Wilson organization has grown from one Toyota dealership with 90 employees to eight Toyota dealerships, three Lexus dealerships, three Honda dealerships, an Acura dealership, 2 Ford dealerships, a Mazda dealership, and a Volkswagen dealership. - now supporting nearly 2,000 associates. The David Wilson Automotive Group is one of the top ten privately owned automotive groups in the country.