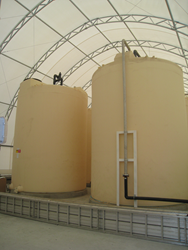 Brenntag North America will continue to invest in DEF infrastructure to meet the growing DEF market demands.
Reading, PA (PRWEB) March 16, 2015
Brenntag, the world's largest distributor of Diesel Exhaust Fluid (DEF), provides its North American customers with over 1 million gallons of DEF storage nationwide. The latest storage tank addition in Lancaster, TX increased the North American storage capacity to over 1 million gallons in the beginning of 2015.
The DEF North American market continues to show significant growth since the implementation of the Environmental Protection Agency's (EPA) 2010 Diesel Emissions Standards. Every month newly manufactured trucks requiring DEF hit the road and influence growth of the market. In addition, the apparent likelihood of higher DEF dosing rates are communicated by prominent truck manufacturers. As the North American DEF infrastructure is challenged to meet these amplified volumes, consumers consistently pose the question, "How will the distribution channel keep up in the future?"
Brenntag North America acknowledges this progression and believes adding storage capacity will allow us to provide customers with the supply availability they require across the US and Canada. Large quantities of storage along with Brenntag's high-speed rail unloading systems and fleet of dedicated DEF delivery tankers, allows Brenntag to successfully manage DEF logistics to meet customer needs. Brenntag North America will continue to invest in DEF infrastructure to meet the growing DEF market demands.
About Brenntag:
Brenntag, the global market leader in chemical distribution, covers all major markets with its extensive product and service portfolio. Headquartered in Mülheim an der Ruhr, Germany, the company operates a global network with more than 480 locations in more than 70 countries. In 2013, the company, which has a global workforce of more than 13,000, generated sales of EUR 9.8 billion (USD 13.0 billion). Brenntag connects chemical manufacturers and chemical users. The company supports its customers and suppliers with tailor-made distribution solutions for industrial and specialty chemicals. With over 10,000 products and a world-class supplier base, Brenntag offers one-stop-shop solutions to around 170,000 customers. This includes specific application technology, an extensive technical support and value-added services such as just-in-time delivery, product mixing, formulation, repackaging, inventory management and drum return handling. Long-standing experience and local excellence in the individual countries characterize the global market leader for chemical distribution.