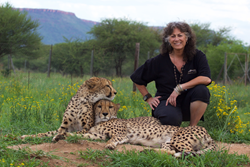 Human-wildlife conflict and habitat loss are the two greatest threats to the cheetah. We need to formulate a tactical response plan now if this endangered species is to have hope for a future.
Washington, D.C. (PRWEB) March 16, 2015
Cheetah Conservation Fund (CCF), the longest-running cheetah conservation program in existence, marks its milestone 25th anniversary in July. Founded in 1990 by research scientist and conservation biologist Dr. Laurie Marker, CCF has grown over the past 25 years from a rural research outpost into a world-class research, education and conservation institution with collaborative partners throughout the world's cheetah-range countries. From humble beginnings in a borrowed farmhouse without electricity near Otjiwarongo, Namibia, CCF's field headquarters now occupy a cluster of permanent, modern structures situated on a 100,000-acre private wildlife reserve and model livestock farm. Its facilities include a Visitor Centre, Education Centre, Cheetah Museum, Cheetah Sanctuary, veterinary clinic, genetics laboratory, staff housing, overnight guest accommodations, livestock buildings, commercial creamery and other related agricultural enterprises.
Dr. Marker, CCF's Executive Director, today announced plans to hold the first of a two-part strategic planning meeting at CCF July 18-20, which will be continued during a second session to take place in Washington, D.C. later this fall. CCF's Cheetah Summit for Long-Term Strategic Planning is themed Changing the World to Save the Cheetah, which also serves as the theme for all CCF anniversary celebration activities taking place throughout the calendar year, including CCF's 25th Anniversary Gala in Windhoek, Namibia, on July 17.
"We are very excited about the Cheetah Summit, which will examine the complex web of social, economic and environmental problems surrounding the cheetah conservation crisis," said Dr. Marker. "The human population in sub-Saharan Africa is expected to double by 2050, which will dramatically increase demands on the food supply. This, together with the effects of global climate change, will place additional pressure on the land and exacerbate human-wildlife conflict, which together with habitat loss, are the greatest threats to cheetah survival. We need to put into place a tactical response plan now if the cheetah is to have hope for a future."
The cheetah is Africa's most endangered big cat, with an estimated 10,000 remaining in the wild. CCF Board Members and Trustees from the U.S. and Namibia and delegates from CCF's international affiliates and collaborative organizations in the UK, Canada, Belgium, Australia, Italy, the Netherlands, Germany and France will participate in the first meeting in Namibia. The second session in the U.S. will bring together some of the best minds in science, ecology and conservation biology with representatives from zoos and academic institutions, government officials and business executives from around the world to work on developing the plan.
Under the leadership of Dr. Marker, CCF has become a driving force in conservation, recognized for applying a science-based, holistic approach that carefully balances the needs of both people and wildlife sharing ecosystems. CCF is credited with successfully mitigating conflict between farmers and cheetahs in Namibia with innovative, non-lethal predator control strategies, which include the use of the now-popular livestock guarding dog and the advancement of communal and commercial conservancies.
To request interviews, B-roll or photos, please contact Susan Yannetti, susan(at)cheetah(dot)org or 202-716-7756.