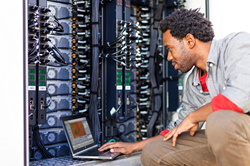 We've proven the value of combining web analytics technology with human analysis.
Denver, Colorado (PRWEB) March 16, 2015
iWeSocial, a leader in delivering actionable insight to businesses, today announced that it is providing market research and social media reporting services to HP Storage. Research analysts at iWeSocial mine data from over 70 million different websites in order to provide the HP Storage marketing team with actionable insights on product lines, sales opportunities, and overall brand presence. iWeSocial also provides HP Storage with market research on broader industry topics such as cloud and software defined storage.
"HP is one of the world's most prominent brands; and the volume of digital and social conversations surrounding our brand, products, and services continues to grow at an exponential rate," states Craig Nunes, Vice President of Global Marketing at HP Storage. "iWeSocial helps HP Storage filter out irrelevant data points and provides us a stronger pulse on our marketing team's ability to tell our most important stories."
The service from iWeSocial includes access to their big data (marketing) analytics platform iWeSocial IQ. The technology is a real-time media monitoring and visualization platform that provides the HP Storage marketing team direct access to data-driven insights about their brand.
"We are thrilled about the work we are doing with the HP Storage global marketing team," said Dr. Evan Escobedo, Practice Principal for iWeSocial. "Every marketing organization recognizes that understanding customer behavior, attitude, and preference is critical to its success. With this project, we've proven the value of combining web analytics technology with human analysis. Our technology aggregates data from millions of traditional and social media sources; this overlaid with market and brand research allows for more effective product positioning, customer segmentation, content development, and campaign execution."
About iWeSocial:
Headquartered in Denver, Colorado. iWeSocial, a division of Zunesis, Inc., is a digital marketing firm that serves both small and large clients across multiple industries and verticals. Since its inception in 2013, iWeSocial has been actively used by a growing list of customers that include Fortune 50 companies, professional sports teams, and leading financial institutions.
iWeSocial's core services include Social Media Listening, Management, and Engagement; Market and Brand Research; as well as Inbound Marketing and SEO. Our social listening and analytics platform, iWeSocial IQ, combines real-time media monitoring with web analytics and visualization to derive actionable insights from across the entire public web.
For more information, please visit http://www.iwesocial.com.
Media contact:
Megan Shaffer / Zunesis, Inc.
720-221-5201