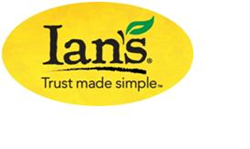 Boston/Framingham (PRWEB) March 16, 2015
Ian's has announced an exciting partnership with Ibotta, the go-to shopping app that helps consumers save. Available since March 4, Ian's fans can now earn discounts on their favorite products and cash them in exclusively at Target.
"We were thrilled to announce Ian's new arrival to Target, and now we are especially pleased to partner with Ibotta!" said Chuck Marble, CEO of Elevation Brands, parent company of Ian's. "Ian's wants to be there for our consumers, so we try hard to make our products accessible nationwide. Now everyone can shop for their favorites and save!"
The Ibotta mobile app has a game-like interface that lets consumers receive instant cash rebates on purchases. Rebate amounts depend on the level of interaction: watching a video about a product and then buying the product might bring 25 cents; watching a video and answering a polling question could net the user 50 cents. Doing both and giving a testimonial increases the payment to 75 cents.
Once you download the free app, you will be led through a number of tasks that help you earn BIG savings off tried and true Ian's favorites, such as:

$2.50 off Ian's Gluten-Free Chicken Nuggets Family Pack
$1.50 off Ian's Gluten-Free Southwest Chicken Tenders
$2.50 off Ian's Gluten-Free, Non-GMO Alphatots Family Pack
$1.50 off Ian's Gluten-Free Popcorn Turkey Dogs
This opportunity to redeem discounts on your favorite frozen items is easy-to-use and fun at the same time. The more you interact with the app, the more you earn in discounts. People everywhere have given Ibotta rave reviews, and Ian's is proud to be a part of it all.
Search for Ibotta in your app store and download. Once you have done this, you will begin to see important savings. Join today and enjoy the carefree, worry-free lifestyle you deserve with Ian's, offering Trust made simple™.
For more about Ian's, please visit http://www.iansnaturalfoods.com. For interviews or product samples, please call the contacts listed at the end of this release.
ABOUT IAN'S NATURAL FOODS
Ian's is the pioneer of high-quality, allergy-friendly foods consumers can trust. Products are made on-site in Ian's Framingham, Mass., facility where allergy-friendly food safety practices exceed federally mandated standards. All products are laboratory-tested for allergens and the plant's equipment is cleaned and sanitized, following stringent food safety standards. Ian's allergy-friendly items are available nationwide at local natural and organic retailers and in the natural section of many grocery store chains or by direct purchase online at http://www.iansnaturalfoods.com.
MEDIA CONTACTS:
Alexandra Salazar
McFadden/Gavender
O: (520) 882-6262
M: (520) 820-9948
alexandra(at)mcfaddengavender(dot)com
Christina Thompson
McFadden/Gavender
O: (520) 882-6262
M: (623) 229-2597
christina(at)mcfaddengavender(dot)com
Website: http://www.IansNaturalFoods.com
###