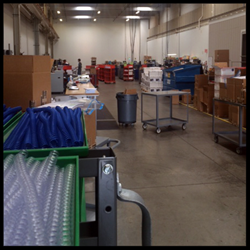 It's like moving from a dorm room into a luxury condo.
SAN LUIS OBISPO, CALIFORNIA (PRWEB) March 17, 2015
This month the online color printing company, DocuCopies.com, celebrates the first anniversary of their move to a larger facility in San Luis Obispo, California.
The new location gave the company much-needed space to grow and expand, which is exactly what has happened since then -- and there's still room to spare.
"It's like moving from a dorm room into a luxury condo," jokes Mike Lindahl, general manager of DocuCopies West. "We even get a mountain view from the parking lot."
Since the move, DocuCopies.com have expanded into products such as large format printing, including banners, posters and signage. They've also been able to stock larger quantities of essentials like boxes, paper and bindery products. And there is a dedicated office trailer, where before people working in file setup and customer service were stationed against a wall on the noisy production floor.
"Growth is an ongoing process, but looking back it's hard to wrap my head around how it was before the move," says Lindahl.
For more information on DocuCopies.com and their digital color printing services, visit them online at http://www.DocuCopies.com.