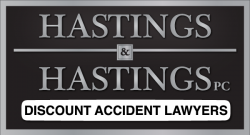 Phoenix, AZ (PRWEB) March 13, 2015
Hastings and Hastings, an automobile accident personal injury attorney in Arizona announces a record number of motor vehicle accident free consultation requests in Phoenix. With the roads and highways of the country becoming increasingly dangerous, a growing number of accidents are occurring virtually every day that result in serious injuries and even loss of life. When this happens it is essential to hire an experienced and dedicated personal injury attorney in Phoenix as a way to improve the chances of gaining a favorable recovery. Most experts would agree that attaining a recovery with regard to injuries and accidents is important to the overall recovery process. From dealing with medical care expenses to offsetting lost wages, a fair and just recovery is essential to returning to a more normal way of life.
Hastings and Hastings handles a wide variety of accidents in the greater Phoenix metropolitan area and the surrounding communities. This includes everything from wrongful death related events to trucker and 18 wheeler collisions as well as accidents that cause catastrophic or serious injuries. In addition, the firm routinely handles motorcycle collision accidents, bicycle collision accidents and accidents that are the result of a collision between an SUV, truck or automobile. Along with these more common types of accidents, Hastings and Hastings also addresses everything from accidents in the workplace to accidents at home and accidents in public that result in slip and fall related injuries. From property damage cases to dog bite type accidents, Hastings and Hastings handles a broad range of accident related events.
Experienced and knowledgeable attorneys that are carefully hand chosen and closely monitored work to assist clients from one of 11 office locations in the Valley. Because Hastings and Hastings is so diverse across the community, it is easy and convenient for those who have been injured due to someone else's negligence to have access to focused and professional personal injury attorney related services. The firm brings to the table decades of experience and an impressive reputation that has resulted in countless referrals and word-of-mouth clients over the years. Having saved accident victims over 11 million dollars in just the last seven years, Hastings and Hastings is a law firm that has earned the respect and trust of the community, peers and clients alike.
Most importantly, Hastings and Hastings offers attorney's fees that are substantially discounted as a way to ensure that clients retain a greater portion of any recovery attained. This is a key aspect of the Hastings and Hastings difference in that clients are able to simply retain a larger overall portion of any recovery. This helps clients recover faster, heal more effectively and deal with medical bills and lost wages in a more complete and comprehensive way. This recent announcement with regard to the firm seeing a record number of motor vehicle accident injury free consultation requests in Phoenix is further proof that the firm stands by its dedication to its clients.
Hastings and Hastings is a leading provider of discount personal injury legal services located in and serving the greater Phoenix Metropolitan area. This respected legal firm specializes in assisting individuals that have been the victim of serious injuries that have resulted from accidents that were not fault of their own. Hastings and Hastings is a trusted group of attorneys that deliver personalized service and guidance for injury victims throughout Phoenix and all across the state of Arizona. Hastings and Hastings is known throughout legal circles as a dedicated team of professionals and a law firm that has been representing accident victims throughout Arizona for decades. Hastings and Hastings has consistently exceeds client's expectations with regard to representing a wide array of accident related injury victims at times when it matters the most and always doing so with discount attorney's fees.