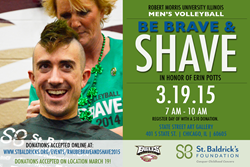 We raised over $7,000 last year; we hope to top $10,000 in 2015!
Chicago, Illinois (PRWEB) March 13, 2015
The St. Baldrick's Foundation, a volunteer-driven organization dedicated to raising money for children's cancer research, will host one of its signature head-shaving events at Robert Morris University Illinois' State Street Gallery at 401 S. State Street in Chicago on March 19, 2015 from 7 AM - 10 AM, where more than 30 will brave the shave in solidarity with kids with cancer and raise money to Conquer Childhood Cancers.
Why all the shaved heads? Worldwide, a child is diagnosed with cancer every three minutes, and one in five children diagnosed in the U.S. will not survive. With only four percent of all federal cancer research funding dedicated to pediatric cancer research, St. Baldrick's Foundation volunteers, supporters and donors are needed to continue the battle against this devastating disease.
This is the third year of the event, which will again honor Erin Potts, a Lyons Township High School volleyball player who passed away from Ewings Sarcoma in 2009. The RMU and south loop communities are invited to attend this family friendly event, and with a $10 donation, people can register at the event to shave.
Last year's event had more than 25 shavees including seven females and Head Men's Volleyball Coach, Lauren Joyce Hensel. They raised over $7,000 in four weeks. Coach Joyce will be shaving her head again this year in hopes to raise $10,000 for the foundation.
About St. Baldrick's Foundation
The St. Baldrick's Foundation is a volunteer-driven charity committed to funding the most promising research to find cures for childhood cancers and give survivors long and healthy lives. St. Baldrick's coordinates its signature head-shaving events worldwide where participants collect pledges to shave their heads in solidarity with kids with cancer, raising money to fund research. Since 2005, St. Baldrick's has awarded more than $154 million to support lifesaving research, making the Foundation the largest private funder of childhood cancer research grants. St. Baldrick's funds are granted to some of the most brilliant childhood cancer research experts in the world and to younger professionals who will be the experts of tomorrow. Funds awarded also enable hundreds of local institutions to participate in national pediatric cancer clinical trials, and the new International Scholar grants train researchers to work in developing countries. For more information about the St. Baldrick's Foundation please call 1.888.899.BALD or visit http://www.StBaldricks.org.