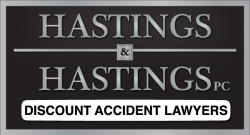 Phoenix, AZ (PRWEB) March 20, 2015
Hastings and Hastings, a professional and trusted discount accident law firm in Arizona, announces catastrophic injury legal representation requests at record demand so far in 2015. A wide variety of common accidents often cause serious or catastrophic injuries that in many instances are life threatening or eventually cause loss of life. Those who have been injured through no fault of their own often require the experience, knowledge and focus of a dedicated team of professional personal injury attorneys. Hastings and Hastings have earned an impressive reputation over the decades as being a reliable source for discount fees, where legal service is never discounted.
Over the years, this firm has handled virtually every type of personal injury related matter. From injury victims that have been involved in motorcycle accidents to those who have been involved in trucker related accidents and bicycle accidents, as well as pedestrian accidents, Hastings and Hastings has established itself as a genuinely focused and dedicated personal injury law firm. The firm offers clients a clear and easy to understand no fee related promise without exception. This promise is at the very essence of the discounted services that the firm offers. It simply implies that if there is no actual recovery, that the accident injury victim will never be required to pay any type of attorney's fees. The firm also stands by its promise to waive all costs associated with the recovery effort.
Whether it is in the workplace, in the home or in public, accidents happen each and every day across the country and throughout Arizona. Many of these accidents result in serious injuries, permanent injuries and disability, as well as loss of life. Working with an experienced and professional law firm that handles all aspects of personal injury is often the best option for clients wishing to receive a recovery.
The recovery is essential and important because it allows clients to return to a more normal lifestyle in a faster and more certain way. From having surgical procedures to dealing with long-term medical care and the cost of lost wages, a recovery can make a big difference in the life of an injury victim. Most importantly, a recovery that is successful when working with Hastings and Hastings allows the client to retain a greater portion of that recovery. Having greater financial resources in this regard can make a big difference for those who have been seriously injured because of someone else's negligence. This recent announcement with regard to the firm announcing catastrophic injury legal representation requests at record demand so far in 2015 is just one more bit of evidence that Hastings and Hastings is a law firm that has earned an impressive reputation throughout the Phoenix community.
Hastings and Hastings is a leading provider of discount personal injury legal services located in and serving the greater Phoenix metropolitan area. This respected legal firm specializes in assisting individuals that have been the victim of serious injuries that have resulted from accidents that were not fault of their own. Hastings and Hastings is a trusted group of attorneys that deliver personalized service and guidance for injury victims throughout Phoenix and all across the state of Arizona. Hastings and Hastings is known throughout legal circles as a dedicated team of professionals and a law firm that has been representing accident victims throughout Arizona for decades. Hastings and Hastings has consistently exceeded clients' expectations with regard to representing a wide array of accident related injury victims at times when it mattered the most and always doing so with discount attorney's fees.