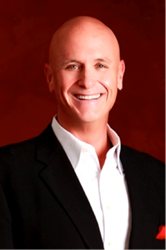 Small, practical changes in the way you think can have a much larger ripple effect on your entire business
Nashville, TN (PRWEB) March 18, 2015
Accelerent Nashville, a national business development platform, is pleased to announce Will Bowen as the speaker at their Signature Breakfast Event March 20, 2015.
Author of the international bestselling book, A Complaint Free World – How to Stop Complaining and Start Enjoying the Life You Always Wanted, Will Bowen is a catalyst for personal transformation. He presents practical, life-changing programs to people through his bestselling books, and on speaking tours.
Will has been featured on many television programs including Oprah, NBC's The Today Show, ABC's World News Tonight, CBS's Sunday Morning, Fox News, The Wall Street Journal, and hundreds of media stories around the world. He has sold millions of copies of his books and was a 2014 Audie Award Finalist for "Best Narration of a Personal Development book." He founded a non-profit called A Complaint Free World, and has sent more than 10 million Complaint Free bracelets to 106 countries.
"It is always refreshing to talk with business leaders," says Will Bowen. "Small, practical changes in the way you think can have a much larger ripple effect on your entire business, as many entrepreneurs have already recognized."
Bringing talented speakers to the Nashville market adds great value to the Accelerent Breakfast Event for all participants. "We are looking forward to hearing the positive messages that Will Bowen brings to an occasion like this," says Steve Minucci, Regional President of Accelerent Nashville. "People always leave his speeches refreshed and with a new perspective on how to go out and grow their business exponentially."
The breakfast will again be at the sixth most visited arena in the U.S., Bridgestone Arena, and runs from 7:00 A.M. to 9:00 A.M. This gives attendees plenty of time to meet an invitation-only group of local business leaders. To take full advantage of this unique event, Partners are encouraged to bring guests including existing clients, team members and prospects. Excellent food will be provided by Levy Restaurants, a company known for its passion in serving great tasting food in large venues.
Accelerent is a business development platform designed for companies that serve the middle market business community. Each Partner (client) is exclusive to its business category or industry and Accelerent provides services to assist its Partners with revenue growth and market exposure using the company's proprietary business development platform.
For more information visit http://www.accelerent.com