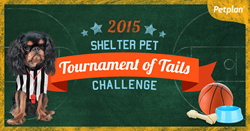 Newtown Square, PA (PRWEB) March 16, 2015
As the nation gears up for D-I postseason hoops, Petplan will crown a different breed of champion altogether. The pet insurance provider is hosting its second annual Tournament of Tails, in which 32 adoptable dogs and cats will play for their share of the $10,900 purse. But besides the kitty, Petplan aims to raise awareness for shelter pets, as well as the organizations that help them rebound from adversity and find fur-ever homes.
The adorable contenders will represent their respective shelters in friendly "nose-to-nose" matchups throughout the online tournament. Each pet's picture and story will be featured on a "player card" at the tourney website and fans can vote each day to help their picks advance to the next round.
Best of all, no pet is going home empty-pawed: those bounced at the "Terrific 32" receive a $100 donation for their shelters, while $200 will be donated for tournament runs ending at the "Spirited 16." "Eager 8" finalists receive $300; those who paw their way to the Final Fur net $500.
First round action tips-off March 17, with subsequent rounds beginning March 25, 30 and April 4.
And with a tidy $5,000 sum on the line for April 6's championship matchup, every player in the tourney is a paw-tential "Cinderella story" in the making.
This year's tournament was expanded under the company's philanthropic initiative, Petplanthropy. Added for the second annual tournament are a dedicated website, 16 more teams and a larger pool of prize money. There's even a mobile website — a perfect way to a-mews oneself during commercial breaks while supporting a pawesome cause.
Petplan co-founder and co-CEO Natasha Ashton sees the tournament as a win-win: "Pet lovers raise awareness for shelter pets by voting, and shelters receive a donation that's a slam dunk for the pets they so selflessly serve." She adds, "Tournament of Tails is all good fun, but no matter the outcome, we hope it inspires people to open their hearts and homes to a shelter pet in need."
For more information about the tournament, pet players and to vote, visit the tournament website at http://www.gopetplan.com/tournament-of-tails.
###
ABOUT PETPLAN
Petplan is more than a pet insurance company. We're dedicated to providing pet parents with the support, resources and tools they need to keep their pets not just surviving—but thriving—into their old age. Simply put, we aim to be the kind of company that will make our pets proud. For the third consecutive year, Petplan was listed among Forbes' annual ranking of America's Most Promising Companies – a list of 100 privately held, high-growth companies with bright futures. Petplan is the only pet insurance company to have been included on Inc. Magazine's list of 500 fastest-growing, privately held companies in America.
Petplan's fully customizable cat and dog insurance policies provide comprehensive coverage for all hereditary and chronic conditions for the life of the pet as standard. Petplan policies are underwritten by AGCS Marine Insurance Company in the U.S. and by Allianz Global Risks US Insurance Company in Canada. The Allianz Group was rated A+ by A.M. Best in 2014. For more information about Petplan pet insurance, visit http://www.gopetplan.com or call 1-866-467-3875.
ABOUT PETPLANTHROPY
Petplanthropy is the official corporate philanthropic initiative of pet insurance provider Petplan. The initiative fulfills its mission of "pawing it forward" by encouraging Petplan employees, policyholders and the general public to lend paws-on support for two- and four-legged friends alike. Petplanthropy facilitates annual Petplan-sponsored charity events, paid time off for employee volunteerism and the donation of employees' time and talent to charitable endeavors. The initiative also fundraises for the Petplan Fund, from which it donates money to causes that support vulnerable pets and their families. The Petplan Fund is a component fund of The Philadelphia Foundation, a community foundation 501(c)(3) organization.