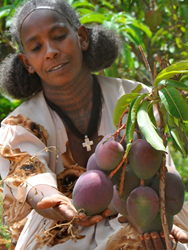 As rain drops here and there come together to create the strongest flood so do Commitments...build the needed vigor to end extreme poverty
Washington, DC (PRWEB) March 19, 2015
The Microcredit Summit Campaign welcomes the Relief Society of Tigray (REST) as the 50th organization to make a Campaign Commitment, joining a global coalition working to help 100 million families lift themselves out of extreme poverty.
The Microcredit Summit Campaign's 100 Million Project is building a movement among financial service stakeholders committed to helping to end extreme poverty through: public statements of commitment to action, expanding practices to reliably measure movement out of extreme poverty, and promoting innovations and best practices to accelerate movement out of poverty.
REST, an NGO based in Tigray in northern Ethiopia, has worked tirelessly in support of interventions directly impacting the lives of those living in extreme poverty through the extension of social safety net transfers and supporting public works programs vital to ensuring the food security of many. REST has worked with risk mitigation strategies touching on soil and water conservation, grazing and land rehabilitation, and irrigation. They have also been instrumental in delivering a graduation program for those in Tigray province through REST partners.
Teklewoini Assefa, executive director of REST, explains why his organization is making this Commitment to help end extreme poverty. "As rain drops here and there come together to create the strongest flood," says Mr. Assefa, "so do the commitments by the various organizations that come together from different corners of the globe build the needed vigor to end extreme poverty at a greater scale. REST believes that the hardest part in the fight against extreme poverty is to get the poor to first the foothold on the ladder of change. When poverty is extreme, the poor don't have the ability to get out of the mess by themselves. They need external help to get started so that they may begin their own ascent up the ladder of growth. By sequencing safety net transfers, livelihood supports, and access to finance, REST seeks to position extreme poor households onto the first rung of the growth ladder from where they can start looking and investing into the future and create sustainable pathways out of extreme poverty."
In 2015, REST will deploy its many programs in support of its Campaign Commitment to:

Help 348,000 chronically food insecure families lift themselves out of extreme poverty, by extending safety net transfers to targeted families.
Help 22,500 families access the Weather index insurance coverage against drought to sustain the livelihood gains through building their resilience to shocks.
The Campaign looks forward to welcoming this new partner in the global coalition and sharing their progress towards achievement of their Commitment at the 18th Microcredit Summit.
Read the REST Ethiopia Campaign Commitment letter.
For more information on Commitments and the 100 Million Project, visit our website or write to mycommitment[at]microcreditsummit[dot]org.
###
The Microcredit Summit Campaign (the "Campaign"), a project of RESULTS Educational Fund, is the largest global network of institutions and individuals involved in microfinance and is committed to two important goals: 1) reaching 175 million of the world's poorest families with microfinance and 2) helping 100 million families lift themselves out of extreme poverty. The 100 Million Project (focused on Goal 2) was launched in response to World Bank President Jim Yong Kim's call to end extreme poverty by 2030 and in recognition that full financial inclusion can only be achieved by targeting the extreme poor.
The Microcredit Summit Campaign will host the 18th Microcredit Summit in the fourth quarter of 2015 in the Africa-Middle East region.