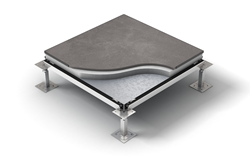 This new line significantly expands the available options for architects and designers to create a signature look that is unique to their specific project
Jessup, MD (PRWEB) March 18, 2015
Tate®, a market leader in the design, manufacture and distribution of raised access flooring and airflow management solutions, is introducing Tate Signatures, a new brand for access floor finishes.
The increased use of access floors in commercial office environments and the desire to preserve the benefits of the system throughout the entire building has led to the creation of a unique brand dedicated to factory laminated access floor finishes. Tate has developed a product range that offers a variety of finish styles and characteristics to ensure the successful installation of access floors in all non-carpeted areas of the building.
"We are very pleased to have launched this brand to showcase our factory applied finishes for access floors. This new line significantly expands the available options for architects and designers to create a signature look that is unique to their specific project, while still maintaining the versatility and convenience of the access floor." – Donal Curtin, President
The new range of factory laminated finishes includes products such as porcelain, terrazzo, hardwood, concrete, linoleum, vinyl, rubber, cork and PosiTile carpet a one-to-one fit carpet tile. In addition to the wide range of pre-qualified finishes available, Tate has dedicated finish specialists who will assist designers in delivering custom solutions to achieve the aesthetic and functional requirements of any project.
"With the Tate Signatures brand comes our commitment to offer specialized and customized solutions that maintain access to the underfloor service distribution space while creating an aesthetically pleasing, functional building." – Donal Curtin, President
Laminating the panels in the factory and delivering them to the jobsite ready for installation speeds up construction and is cost competitive with field applied alternatives. It also allows a single contractor to install the raised floor and the finish at the same time, so you can be sure the job is expertly installed without the need of additional contractor coordination.
For more information about how the new Tate Signatures brand is helping designers create the signature style they want for their next project, please visit http://www.tatesignatures.com or call (410) 799-4200. The website features a clean easy to use navigation path segmented by finish type with swatches, images and other information to assist with the research, design and specification of these products.