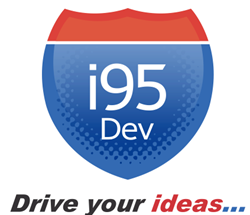 We've restructured our Partner program. The new program, will offer i95Dev partners, across the globe new incremental benefits and incentives.
Dallas, Texas, March 15, 2015 (PRWEB) March 15, 2015
"We are excited to exhibit and join our friends and partners at this year's Microsoft Convergence event. Our team will be ready to answer any questions and to show retailers the values of an integrated eCommerce system and mobile POS solutions," states Mr. Vanit Kumar, CEO of i95Dev. At the event, i95Dev will showcase the newest features available for their signature product, Dynamics Connect, along with the full turnkey E-Commerce Growth Engine (EGE) product, which was launched at last year's conference. Both products give retailers, manufacturers and distributors an advantage by providing a real-time online presence in sync with their backend operations, including Microsoft Dynamics ERP and CRM.
EGE, along with i95Dev's other connect products for Microsoft Dynamics, offer more than the average connectivity products designed for commerce and ERP. "We offer solutions to clients' complex business processes. EGE provides the tools to integrate both B2C and B2B to make their experience much richer than traditional sales, marketing and service channels," Mr. Kumar states. "The big challenge for our clients is to seamlessly integrate the supply chain across distributors, manufacturers, shippers and payment gateways so that the processes are automated with the right checks and balances to keep inventory levels down, enable drop shipping where appropriate, maximize cash flow and minimize financial risk."
One of the biggest differentiations for EGE in the Microsoft Dynamics Marketplace is its ability to fully integrate into an existing system. It offers a suite of features that can be built on an open-source Magento platform. The seamless integration and open platform customizability allow EGE to act as a centralized hub for eCommerce, delivering incredible benefits, such as increasing sales, reducing operating costs, improving customer loyalty and opening up the market. For partners, EGE is an opportunity to offer a differentiated solution that can easily cost justify an entire ERP implementation. Mr. Kumar notes, "Our connect products have solved many problems attributed with multichannel environments that all of our customers faced with each day."
In early 2015, i95Dev announced they were launching a redesigned partner program that would offer exciting new incentives and awards designed to ensure optimal support for their partner's unique needs. "We've restructured our Partner program. The new program, will offer i95Dev partners, across the globe new incremental benefits and incentives." Archana Yenna, Partner Executive at i95Dev, adds, "Our new initiatives demonstrate we're increasing our commitment to the channel, which is top priority for growth." The i95Dev partner program is free and gives partners access to the company's modern, agile and extensible multichannel solution for customers of all sizes in retail, manufacturing and wholesale distribution.
Anyone interested in learning about or seeing the EGE or Dynamics products in action can find out more by visiting i95Dev at booth #1545 at Microsoft Convergence 2015. Interested parties can also learn more by visiting the i95Dev website or by calling 1-301-760-7499.
About i95Dev:
i95Dev provides complete suite of eCommerce solutions for B2B and B2C markets. We are one of the leading systems integrators for Magento in supporting complex integrations with various ERPs, POS, CRM, Accounting, Mobile and Social Applications.
We advise more than 1500 brands from Retail, Manufacturing, Distribution and Wholesale Trade on Next Generation Commerce and Omni-channel strategies.