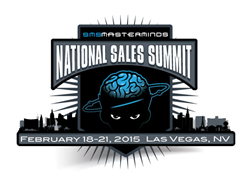 San Luis Obispo, Ca (PRWEB) March 16, 2015
SMS Masterminds, a division of publicly traded SpendSmart Payments Company, Inc. (OTCQB: SSPC), presented the second annual National Sales Summit exclusively for SMS Masterminds licensees from February 18-21, 2015. This annual event gives Masterminds Licensees unique networking opportunities and valuable learning experience to grow their individual markets. The second annual summit showcased the following:

An increase in attendance – from 50 individual licensees in 2014 to almost 100 individual licensees and over 130 total attendees.
Joe Shepard and the PayPros Merchant Services team returned to sponsor the opening reception on February 18. The reception is an opportunity for Licensees to network with each other as well as the Masterminds team.
Plum Grove Print Services sponsored breakfast for for both days, introducing their online print portal which supports a variety of custom products, helping Licensees promote their business to local merchants.
The Summit began February 19 with an inspiring introduction from CEO Alex Minicucci, emphasizing the importance of strong business fundamentals.
Following Alex was a very informative "Big Data" presentation from VP of Masterminds Service Geoff Chaney and Concierge Team Lead Kenny Selke, showcasing loyalty analytics and trends throughout the Masterminds network. This was followed by a workshop to help individual Licensee apply the knowledge presented to them.
Denver Licensee David Marchiori opened day two with a presentation recounting his journey as a new Licensee in 2010, and what strategies have fueled his success. He also shared his guidance on developing sales teams.
Awards were presented to Licensees in the mentorship program for individual progress and growth achieved in their markets, including 'Rookie of the Year' awarded to Malik Jaffer of Washington D.C.
Board Chairman Joe Proto and new board member John Eyler spent a few minutes sharing their experience, including why they are passionate about the services being provided by Masterminds Licensees.
The Summit was closed by CEO Alex Minicucci giving a brief look at what Licensees can expect in 2015 from the Masterminds team.
"The National Sales Summit continues to focus on networking and education. It is a unique opportunity for licensees to gain valuable information and strategies needed to implement successful mobile and loyalty marketing programs in small to medium-sized businesses across the nation. These programs, implemented in hyper-local markets throughout the nation, allow merchants to connect like never before with their customers." explains CEO Alex Minicucci.
About SpendSmart
SpendSmart Networks provides proprietary loyalty systems and a suite of digital engagement and marketing services that help local merchants build relationships with consumers and drive revenues. These services are implemented and supported by a vast network of certified digital marketing specialists, aka "Certified Masterminds," who drive revenue and consumer relationships for merchants via loyalty programs, mobile marketing, mobile commerce. Consumers' dollars go further when they spend it with merchants in the SpendSmart network of merchants, as they receive exclusive deals, earn rewards and ultimately build a connection with their favorite merchants.
Forward-Looking Statements
Certain statements in this newsletter are forward-looking statements under the Private Securities Litigation Reform Act of 1995. Such statements include, but are not limited to, statements about the company's future revenue and growth including without limitation the number of licenses and other statements that are not historical in nature, particularly those that utilize terminology such as "will," "positions," "believe," "should," "may," "intends," "expects," "future," "believes," "continue," other words of similar meaning, derivations of such words and the use of future dates. Forward-looking statements by their nature address matters that are, to different degrees, uncertain. Uncertainties and risks may cause SpendSmart Networks' actual results to be materially different than those expressed in or implied by such forward-looking statements. Particular uncertainties and risks include, among others, uncertainties involved in launching new products or services, achieving market acceptance; uncertainties regarding SpendSmart Networks' ability to license out its existing products and technologies and license additional products and technologies and the terms of such licenses; and other risks and uncertainties described in SpendSmart Networks' filings with the Securities and Exchange Commission, including its most recent annual report on Form 10-K/A, and subsequent quarterly reports on Form 10-Q. All forward-looking statements in this newsletter speak only as of the date of this newsletter and are based on SpendSmart Network's current beliefs and expectations. SpendSmart Networks undertakes no obligation to update or revise any forward-looking statement, whether as a result of new information, future events or otherwise.