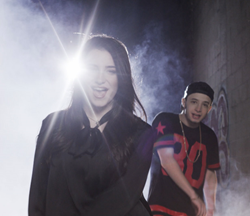 I feel like this is the first visual document of what we're all about.
LOS ANGELES, CA (PRWEB) March 16, 2015
Up and coming American pop/hip-hop duo, This Boy That Girl (also known as TBTG), have released their official music video today for the song, "Turn The Night Down," the second single from their studio EP Breaking Bad. The video was directed by Create.TV and can now be viewed on TBTG's YouTube Channel here.
The video has a stylish, upbeat theme carried by Becca King's vocals and Alec King's rap as they perform "Turn The Night Down" in various locations throughout Los Angeles, from the Hollywood Hills, to a downtown alley, to a chic nightclub.
"I feel like this is the first visual document of what we're all about," state Becca & Alec King. "I'm excited for people who don't know us that well to connect with us through the message of the song."
The EP for Breaking Bad will be released on iTunes April 7th, 2015 via Big Dream Records, which fans can now pre-order.
About This Boy That Girl:
TBTG is an American pop/ hip-hop act consisting of brother-sister duo Alec and Becca King. Originally from Colorado, Alec and Becca moved to LA four years ago with their family to pursue careers in the music industry. In addition to singing and rapping, both artists write and produce their own music. While Becca has been writing for popular artists through her Warner Chappell Publishing deal, Alec has been working on a recently released hip-hop mixtape entitled "Change Is Good." Represented by Big Dream Productions, TBTG is becoming a force in the music industry, most recently joining Aaron Carter on his Wonderful World Tour, and Kalin and Myles 'Chase Dreams' Tour.
As artists, Alec and Becca realize the opportunity to support organizations with missions that are close to their hearts. Performing on the 20-city 'Music is My Language' Anti-Bullying Tour sponsored by Champions Against Bullying, TBTG is taking a stand against bullying in their own special way.