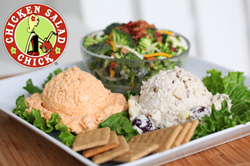 Auburn, AL (PRWEB) March 16, 2015
Chicken Salad Chick, one of NRN's 2015 Breakout Brands, has officially launched their new CravingCredits™ loyalty program across all locations. The program is built into a custom mobile app that can be downloaded for free in iTunes or Google Play.
The loyalty program will allow guests to earn points from their purchase and redeem them for various rewards, including free menu items, retail merchandise and dollars off their purchase. Other features of the custom app include online ordering, exclusive news, up-to-date location information and special offers.
"Since we first opened our doors back in 2008, we have been continuously humbled by the devotion of our guests," said founder Stacy Brown. "We can't wait for our wonderful fans to join this program that not only rewards their loyalty, but also gives them an inside look into the Chicken Salad Chick culture!"
About Chicken Salad Chick
The Chicken Salad Chick concept was established in Auburn, AL in 2008 in the kitchen of founder Stacy Brown. Stacy quickly learned that selling a homemade recipe from her kitchen is against the law, and after being shut down by the health department, she decided to solicit the business expertise of her future husband and fellow founder, Kevin. Together, they opened a small takeout restaurant which quickly grew to enormous demand and additional locations. Chicken Salad Chick has sold 100 franchises to be developed across the states of Alabama, Florida, Georgia, North & South Carolina, Tennessee and Texas, and has plans to expand nationally in the coming years.
Chicken Salad Chick puts an edgy twist on a Southern classic, offering guests a "custom-fit" chicken salad experience with 15 original flavors to choose from, as well as gourmet soups, flavorful side salads and freshly-baked desserts. There are currently 30 Chicken Salad Chick locations throughout the Southeast. See http://www.chickensaladchick.com for additional information.