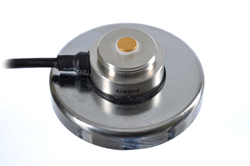 The applications include any type of vehicle, construction equipment and forklifts, RV vehicles, warehouse steel beams, towers, tollway facilities and farm equipment.It has already been used on a NASA rocket mission.
Aurora, IL (PRWEB) March 16, 2015
AIR802 introduces this week new and never before available mobile magnetic antenna mount options. These mounts, built in the USA are very high quality and are customizable at the time of order with six customized options.
The first option is the customization of the cable length, typically in the range of 1 to 20 feet. Typical industry products offer either 13 or 17 feet lengths. Excess length can add significant signal loss, so precise lengths are highly desirable.
The second option permits one of 36 available type of connectors to be installed at the end of the coaxial cable in addition to the option of no connector.
The third option allows for choice of the coaxial cable type and color. This includes CA195FLEX in black or white in addition to RG174.
The fourth option is the choice of two magnet types. This include the FERRITE BASIC MAG ™, a ferrite or ceramic type magnet which all other industry mounts are built. For those who have suffered from mounts that have fallen off, resulting in loss and potential liability issues will desire the NEO POWER MAG ™, a neodymium magnet which is the most powerful permanent magnet on earth. Compare a pull rate of 61.7 lb./f pull rate of a ferrite type magnet in comparison to 362.4 lb./f pull rate of a neodymium model. The base is covered with a rubber boot.
The fifth option is the mount-base connector option. Three connector types are offered, NMO, N jack-female and UHF jack-female (SO-239) providing greater options for antennas to match the mount. Each connector is tri-metal plated to reduce intermodulation distortion, another first for mobile mounts. The NMO and N type connector support up to 6 GHz versus typical industry models supporting up to 1000 MHz. A nickel plated brass dust-rain cap is included with each mount.
The sixth option is for the base color. Standard is chrome. Black and white are options for an additional price in addition to custom fleet colors.
These mobile magnetic antenna mounts are available for purchase from the AIR802 website.
AIR802 is a global engineering and manufacturing company focused on high quality products, same day shipping, strong ethics and customer service.