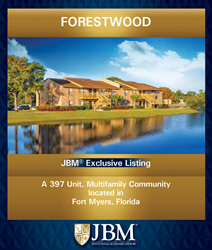 Tampa, FL (PRWEB) March 16, 2015
JBM® launched to market Forestwood, consisting of 397 units housed in 27 two-story buildings situated around two lakes as well as oak and pine preserves. Completed in 1986, the property is a classic garden style community offering a variety of one and two-bedroom units. The property is a prime candidate for a value-add strategy.
The Property is located in one of the most desirable locations in Fort Myers, a mile away from one of the city's most upscale shopping centers, the Bell Tower Shops, which features retailers such as Saks Fifth Avenue, Williams-Sonoma, The Fresh Market, Regal Cinema Stadium 20 and Bed, Bath & Beyond. The central location near significant demand drivers such as numerous office parks, educational institutions, hospitals and retail centers supports the ability to attain higher rents.
About JBM® Institutional Multifamily Advisors
JBM® Institutional Multifamily Advisors is the most reliable source of brokerage services in the institutional multifamily asset and investment industry with Florida offices located in Tampa, Orlando, and Naples. JBM® specializes in the sale of high-rise, mid-rise and garden style apartment communities throughout the Southeast United States and focuses exclusively on asset disposition services, capitalization and recapitalization of existing and merchant development opportunities of large apartment type portfolios and singular assets for Domestic and Foreign Institutional, Private National and Regional clientele.
The firm's collective team efforts have exceeded $8.9 Billion and over 102,000 apartment units listed, marketed and sold. The firm delivers a strong legacy of excellence in representation and the most effective investment sales platform throughout the Southeast United States, meriting Jamie May and JBM® as a trusted leader in the multifamily industry.
If you would like more information about this property or to schedule an interview with Jamie May, Chairman & CEO or Eddie Yang, Principal and Executive Director please, contact Claudia Raines at 813.812.5003 or email. To learn more, please visit: JBM.com