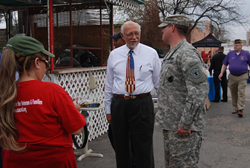 We want to support our local heroes and their families to get back on their feet and to help them cover the costs of the basic needs. After everything that they have done for us – it's the least we can do
San Antonio, TX (PRWEB) March 16, 2015
With a new community program in the San Antonio area, Kay Insurance Services has teamed up with San Antonio Coalition For Veterans And Families and announced a new charity campaign to raise funds to support veterans in need of emergency financial assistance. Kay Insurance Services is starting this campaign to help the local heroes and their immediate family members that reside in Texas. Donations to the SACVF can now be made through the campaign's page at http://www.kayinsurancegroup.com/Support-Our-Heroes-Who-Gave-Us-Freedom_16_community_cause.
Of Veterans in the Alamo region, approximately 62% are age 60 and older, and have at least one diagnosed disability. Veterans that have passed away leave widows who have no strong support systems, in particular an income to survive without their loved ones. Many live in poverty or are on the poverty threshold and reach out to SACVF in some of the direst times of need.
Many Veterans, caseworkers, and family members alike, contact SACFV for help with move in expenses for a bed, kitchen utensils, or other household items that are commonplace for those of us who have ample funds. Some Veterans ask for help with child care costs so that they can find work and help develop a sustainable future; while others ask for a simple tank of gas to get to their first day of work or to support them until their first paycheck.
"We want to support our local heroes and their families to get back on their feet and to help them cover the costs of the basic needs. After everything that they have done for us – it's the least we can do," said Richard Huyck, the Agency's principal.
The agency will promote the current campaign over the course of the next 45 days, through its social media channels, email and text message communications, as well as through a monthly magazine, delivered to thousands of households in Texas, where the agency currently operates. Our Hometown magazine reserves a full page to feature the campaign and details of the cause. The electronic Flipbook version of the current issue can be accessed here: http://www.kayinsurancegroup.com/Our-Hometown-Magazine_47
To join Kay Insurance Services in supporting San Antonio Coalition for Veterans and Families, donors are encouraged to visit http://www.kayinsurancegroup.com/Support-Our-Heroes-Who-Gave-Us-Freedom_16_community_cause and also share the page with friends and family. Contributors may be acknowledged for their donations through the agency's monthly magazine.
Once the current campaign is over, Kay Insurance Services will continue to work closely with SACVF and other nonprofit organizations in the area, to make sure resources are directed to capable hands that can help better the local community, one family or person at a time. Information regarding past and current campaigns supported by the Agency can be found at http://www.kayinsurancegroup.com/community-cause. More information about Kay Insurance Services and SACVF is available at http://www.kayinsurancegroup.com and http://sacvf.org/index.html.
About Kay Insurance Services
As a Personal Financial Representative in San Antonio, TX, Richard Huyck knows many local families. His knowledge and understanding of the people in his community helps him provide customers with an outstanding level of service. Rich and his team look forward to helping protect the things that are important –family, home, car and more. His team of experts can also help clients prepare an efficient strategy to achieve their ultimate financial goals. To contact an expert at Kay Insurance Services, call (210) 824-0471.