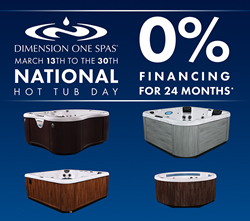 Carlsbad, CA (PRWEB) March 14, 2015
Dimension One Spas is offering 0% financing for 24 months on all hot tubs and swim spas during the National Hot Tub Day Celebration at dealers across the country from March 13th-30th. Customers are encouraged to visit their local dealer for details.
National Hot Tub Day is on March 28th. Portable hot tubs are a not only a great place to relax, they also provide a variety of health benefits including:

Stress reduction
Improved circulation
Better quality sleep
Relief from arthritis and fibromyalgia
Detoxification
General pain relief
Increased metabolism and oxygen creation
To locate a Dimension One dealer, visit http://www.d1spas.com/find-local-dealer/. Customers are encouraged to schedule a wet test to experience a D1 hot tub for themselves. With over 20 models to choose from, there is a hot tub that can fit your backyard and your lifestyle.
###
About Dimension One Spas
Dimension One Spas (D1) is the leading manufacturer of award-winning hot tubs and swim spas and home to the world's first curvilinear spa. D1 Spas is based in Carlsbad, CA and sold through a network of dealers in the United States and worldwide. With over 35 years of experience, the company's four product lines and patented features offer a unique class of design, performance and value for a stunning finish to backyards and patios around the world. For more information about Dimension One Spas, please visit: http://www.d1spas.com.