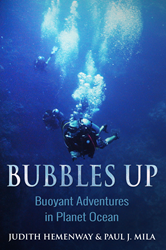 "For anyone whose heart beats faster by the ocean, Bubbles Up is an enchanted plunge; it will net you wonders."
Carle Place, NY (PRWEB) March 17, 2015
Bubbles Up, by authors Paul J. Mila, and Judith Hemenway, now available through online and retail booksellers, plunges readers into the world's oceans as they meet 30-ton whales eye to eye in the South Pacific, dive into the Caribbean surrounded by hungry sharks and barracudas, explore World War II Pacific wrecks, and encounter majestic eagle rays in Cozumel, Mexico.
In a recent interview with both authors, Hemenway said, "Whether you are a diver, snorkeler, or simply an ocean lover rejuvenated by a beach stroll or a swim in the surf, you will enjoy immersing yourself in these fascinating stories." Mila added, "We wrote the book to appeal to a broad audience, not only scuba divers, and we are pleased about the positive reviews Bubbles Up has received."
Reviewer Karen Sunde, author and playwright, said, "For anyone whose heart beats faster by the ocean, Bubbles Up is an enchanted plunge; it will net you wonders."
Bonnie Cardone, Woman's Hall of Fame Diver and author, commented, "This is truly a book about experiencing the ocean that covers its subject from A to Z."
Ben Davison, Editor of Undercurrent Magazine wrote, "Paul and Judy tell their insightful dive stories with humor, sensitivity and style. I felt like I was sitting on the beach, listening to old friends spin their stories just for me."
MilaBooks.com retained the editorial services of Lorraine Fico-White, owner of Magnifico Manuscripts, and book designer Lorie DeWorken, owner of Mind the Margins, to publish Bubbles Up, which is available in both print and all e-book formats.
Mila traded in his corporate suit for a wetsuit, and now devotes his time to writing, scuba diving around the world, underwater photography, and speaking to groups about ocean conservation. Bubbles Up is his first nonfiction work, following four successful dive adventure tales: Dangerous Waters, Whales' Angels, Fireworks, and Near Miss.
Hemenway has logged 1,500 dives over the past four decades. She recently retired from a career in network security engineering, and when she is not diving she enjoys living among the native oaks and rolling vineyards of California's Central Coast. Bubbles Up is her second nonfiction work about the ocean, following The Universe Next Door.
Paul Mila and his family reside in Carle Place, New York, a small town on Long Island.
Judith Hemenway and her husband reside in Atascadero, California.
For more information, visit http://www.milabooks.com and http://www.divingturtle.com
###