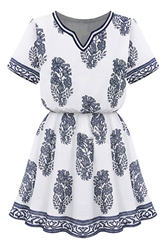 The dresses feature the high taste and modern life of American style, adding a "few more oriental culture" and a touch of classic feeling.
New York (PRWEB) March 18, 2015
OASAP recently created new-designed dresses for Spring and Summer 2015. The dresses are designed with oriental elements for those fashion lovers to be fond of oriental culture.
The "oriental elements" are referring to a kind of combination of American style and oriental patterns, which OASAP believes will define one of the latest fashion trends in spring and summer. Thus, OASAP designers have made an attempt to add oriental elements in the products of the Spring 2015 collection. The attempt is undoubtedly successful. The two types of blue and white flower print dresses, Demure Floral Mini Vintage Dress and Jacquard A-line Floral Dress have been listed among top10 hot products of this month.
"The unique design, underlying culture and high quality means that well begun is half done," said Mr. Moore, OASAP's CEO. "To Be Fashionable is the service tenet of OASAP, so we should cater to popular trends closely and build a new strategy to respond to market changes. We aim to deliver fashion and love to fashion lovers from all over the world; we should listen to the demands from the market," said Moore.
The market demand stems not only from OASAP forecasts but has become a reality. From Mercedes-Benz Fashion Week 2015 at the Lincoln Center in September 2014, blue and white porcelain, Chinese cheongsam and other elements from the mysterious oriental culture have become one of the highlights.
"OASAP is not just a provider of fashion and style; it is also your friend that can provide you with the most heartfelt and fastest service imaginable," said Ms. Yuki, OASAP Brand Director. "It is the vocation of OASAP to dress you differently; thus, in turn, it will become your top fashion choice."
Since the spring dresses have just released, OASAP is offering discounts on the official website of http://www.oasap.com now.
ABOUT OASAP
OASAP IS: A High-street Fashion Online store
OASAP Likes to: Deliver fashion & love!
OASAP is a global online store dedicated to high-street fashion by offering various kinds of women's apparel, bags, shoes, jewellery accessories, beauty products, etc.
OASAP was founded in late 2011, and has already grown to be the leader of high fashion online stores. We keep updating products at a high rate every day. Now we update more than 300 new products each week, there including a little black dress, vintage dress, printed dress, maxi dress, lace dress, floral dress and so on. The products mentioned before definitely belong to the latest fashion trend.