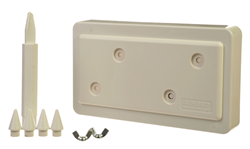 This product is an excellent concept making our installations simple and affordable. Steve W. US Army
Aurora, Illinois (PRWEB) March 17, 2015
AIR802 in releasing the UCAM-004, an innovative and patent pending universal ceiling antenna mount provides a unique evolutionary concept for antenna placement in commercial or false drop ceilings. This simple and low cost method consists of two plastic plates, one on the top side, and the other on the bottom side of commercial ceiling tiles. From one to four antennas can be mounted by merely removing plastic knockouts and then installing extended length reverse polarity SMA (RP-SMA) type adapters which are sold separately.
Dipole or rubber duck antennas can be used on the bottom side while antenna cables are connected to the top side and then on to the radio device being used with the antennas. AIR802 offers several white color antennas that aesthetically match the white tiles in addition to thousands of varieties of antenna cables. Additional white antennas are in development.
Typical deployments today utilize everything from fixed frequency and gain ceiling type antennas to simple placement of a router or access point above the ceiling tile and poking the antennas down through the tile or entire placement of the router above the ceiling tile resulting in some signal loss.
The UCAM-004 provides great flexibility in deploying antennas in ceiling tiles. For example in one mount it could be an arrangement of 4 Wi-Fi antennas for an MIMO access point or it might be 2 Wi-Fi antenna + 1 cellular antenna and 1 RFID antenna. Or perhaps your Wi-Fi device utilizes 2 antennas then two additional can be added in the future should be new access point require 4 antennas. The cost of dipole or rubber duck type antennas has significantly less cost than traditional ceiling mount antennas.
The UCAM-004 is available for immediate purchase on the AIR802 website.
AIR802 is a global engineering and manufacturing company focused on high quality products, same day shipping, strong ethics and excellent customer service.