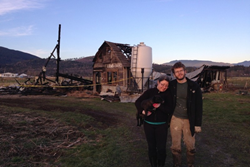 It must have been very difficult for Jeff and Jen to see all of their hard work, precious farm animals, equipment and barn burn down to ashes but we are inspired by their positive attitude during these difficult times
Mount Vernon, WA (PRWEB) March 16, 2015
With a new community program in the Mount Vernon area, Booth Insurance Agency has announced a new charity campaign to raise funds to support the Tobon-Richardson family. In addition to losing their entire barn to a fire, they also lost all their rabbits and a large amount of equipment and tools. The family anticipates that a new structure will cost between $20,000 - $40,000. Donations to the family can now be made through the campaign's page at http://boothinsuranceagency.com/Thoughtful-Food-Barn-Rebuilding_6_community_cause.
Utilizing its own resources and seeking the help of its own network of customers and business partners, Booth Insurance Agency marches on to ensure customers, friends, family and neighbors are always in good hands. The agency recently launched the master charity program of which the current campaign is part of, electing every 60 days a new individual, organization or family in need to receive support.
"It must have been very difficult for Jeff and Jen to see all of their hard work, precious farm animals, equipment and barn burn down to ashes but we are inspired by their positive attitude during these difficult times. We want to support them with their financial needs to pay off their debts and to build again their lovely Thoughtful Food Barn," said Annette Booth, the Agency's principal.
The agency will promote the current campaign over the course of the next 45 days, through its social media channels, email and text message communications, as well as through a monthly magazine, delivered to thousands of households in Mount Vernon, where the agency currently operates. Our Hometown magazine reserves a full page to feature the campaign and details of the cause. The electronic Flipbook version of the current issue can be accessed here: http://boothinsuranceagency.com/Our-Hometown-Magazine_46
To join Booth Insurance Agency in supporting Jeff and Jen rebuild Thoughtful Food Barn, donors are encouraged to visit http://boothinsuranceagency.com/Thoughtful-Food-Barn-Rebuilding_6_community_cause, and also share the page with friends and family. Contributors may be acknowledged for their donations through the agency's monthly magazine.
Once the current campaign is over, Booth Insurance Agency will continue to work closely with nonprofit organizations in the area, to make sure resources are directed to capable hands that can help better the local community, one family or person at a time. Information regarding past and current campaigns supported by the Agency can be found at http://boothinsuranceagency.com/community-cause. More information about Booth Insurance Agency and Thoughtful Barn are available at http://boothinsuranceagency.com and http://www.thoughtfulfoodfarm.com.
About Booth Insurance Agency
Annette Booth finds great satisfaction being involved in her community both personally and professionally. She is the owner of Booth Insurance Agency located in Mount Vernon, Washington, serving the greater Skagit community with a full line of home, auto, business and life insurance products. She takes great pride in advising her clients so they can select the right insurance packages that will provide the coverage that fits their individual and family needs. To contact an expert at Booth Insurance Agency, call 360-848-0939.