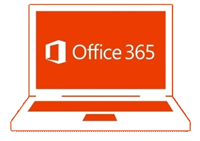 "It makes sense to maximize ROI and reduce support calls by including training videos before, during, and after migration."
(PRWEB) March 17, 2015
Like the shifting sands of the Sahara, Microsoft's Office 365 is constantly in motion. Updates are frequent and necessary to improve functionality and introduce new features. However, to the enterprise they represent a real challenge for end user training. Frustrated by pricey material that is quickly out-of-date, organizations have turned to CBTClips for timely and consistent training videos to increase end user proficiency.
"With increased attention on SharePoint Online, there is a groundswell of interest in moving to the cloud. But to end users, cloud-based applications are just different enough that they're easily frustrated. An otherwise smooth migration can quickly screech to a halt if users can't figure out how to do the simplest tasks," explains Mike Shores, CBTClips CEO. "It makes sense to maximize ROI and reduce support calls by including training videos before, during, and after migration."
It's a common and costly mistake: decisions makers don't see the need to pay for training because they think "people teach themselves what they need to know". The reality is that users struggle and find it difficult to adapt to constant updates. It's no secret that productivity and morale rise when end users feel engaged and comfortable with the software they work with every day.
CBTClips are designed for simple deployment on-premises, SharePoint or via Office 365, giving organizations complete control over the content. Training modules are "drag and drop" easy and available for Office 365, SharePoint, Office 2013, Windows and other Microsoft products. A one-time, fixed-cost license enables companies to stay on increasingly tight training budgets whether they're deploying to a single office or locations worldwide.
For more information, please visit CBTClips.com for sample videos and complete module content listings. Full evaluation versions can be requested at CBTClips.com/eval.
About CBTClips
CBTClips has been providing enterprise productivity software training since 2004. Visit our site or contact us for more information.