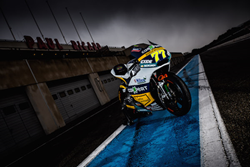 Gennevilliers, France (PRWEB) March 16, 2015
Battery giant Exide Technologies (OTCQB: XIDEQ) will sponsor motorcycle team Technomag-Interwetten in this season's Moto2. The Swiss team's Dominique Aegerter won the German Grand Prix last year, and is among the hot favourites to win this year's championship.
Exide and Technomag-Interwetten announced the deal at a packed press conference, where the contract was signed there and then. It was revealed that the Exide logo will be displayed on both front sides of the bike, and that the racers will wear Exide-branded gear. The sponsorship will be seen by millions of motorsport fans around the world, across TV, print and online.
Exide is one of the leading brands in the motorcycle battery business, making it a natural fit for the sponsorship. The company is an original-equipment manufacturer, and has a comprehensive selection of motorcycle and powersport batteries.
The Exide Factory Sealed range is available in AGM or Gel. Both battery types require no acid filling or maintenance, and offer top-of-the-line performance across powersport, all-terrain and extreme uses. Exide Factory Sealed Gel is designed for high-performance bikes with heavy-duty electrical equipment, like heated saddles and GPS. Gel technology was originally invented by Exide, and is now the gold standard in the industry.
Exide also produces a Maintenance Free AGM range, ideal for most applications, including high-end scooters. The company's Conventional batteries are designed for entry-level and older bikes as well as other vehicles with standard power needs.
"We're delighted to be working with Dominique Aegerter, Robin Mulhauser and the rest of the team at Technomag-Interwetten," said Michael Geiger, VP Sales & Marketing EMEA at Exide Technologies. "Exide's range is designed for those who demand the best from their bike, and Moto2 presents a great opportunity for us to engage with that audience."
Technomag-Interwetten is led by manager Fred Corminboeuf and has two racers, Dominique Aegerter and Robin Mulhauser. Corminboeuf said that Aegerter will be vying for the title and Mulhauser will be aiming to accumulate points. The team trains in south France, and is currently preparing for the opening Qatar Grand Prix on the 29th of March.