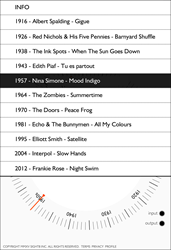 Decadio remains committed to delivering delightful sonic experiences.
Marin County, CA (PRWEB) March 15, 2015
There is a vast amount of audio content available online but few intuitive and delightful ways for people to access and experience it. The Decadio user interface resembles a traditional radio receiver with decades in place of MHz on the dial. Listeners tune in a frequency and travel between the early 1900s through today, hearing voices from the past to the present, both familiar and unknown.
The latest build of the Decadio Chronoreceiver® utilizes the World Wide Web Consortium standard for graphical interactivity on web and mobile platforms, Scalable Vector Graphics (SVG). SVG allows for a truly responsive visual interface that maintains total resolution independence. It is available online and functional on the latest browsers such as Mozilla Firefox, Google Chrome, and Apple's Safari.
Another new feature gives listeners an overview, so you can see what is currently playing across eleven decades and instantly jump to other points in time.
The new Trichotomic Equalizer will provide listeners with the ability to register their genre preferences. With innovations such as this, Decadio continues to explore new ways to receive listener input and feedback.
Also in development is MIND (Memorization Instances of Niche Data). Among its features is the functionality to follow paths and reveal which moments in time are most popular. Do the sixties rise in the fall? Are the thirties most popular in the afternoon?
Decadio remains committed to delivering delightful sonic experiences. It helps people discover the ways our shared history shaped the present and offers insight into the future of sound.
Decadio is available to listeners on a limited basis. Visit Decadio.com to learn more.
About Sight8
Sight8 provides elegant graphic design solutions for desktop and mobile devices, as well as the printed page. Visit us at Sight8.com to learn more.
Sight8, Decadio and Chronoreceiver are trademarks of Sight8 Inc. All rights reserved.