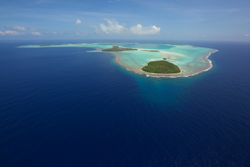 The partnership with Mission Blue...is further support for the cause here on Tetiaroa to preserve the atoll and marine area as one of the key locations in the world for scientific research and sustainable interdependence
KIRKLAND, WASH. (PRWEB) March 16, 2015
Tetiaroa Society, the nonprofit that brings scientists from around the world to research environmental issues on the Tahitian atoll of Tetiaroa in French Polynesia, has joined forces with Mission Blue.
Mission Blue is an initiative of the Sylvia Earle Alliance to create a global network of areas in the Ocean, "Hope Spots," to safeguard the living systems that provide the underpinnings of global processes, from maintaining biodiversity and yielding basic life support services to providing stability and resiliency in response to accelerating climate change. Tetiaroa Society joins more than 100 other respected ocean conservation groups and like-minded organizations from large multinationals to scientific teams conducting important research.
The partnership with Mission Blue follows a successful collaboration with Tahitian government authorities and local fishermen in 2014 to take a vital first step in restoring the Tetiaroa lagoon. A mandate has been placed to prevent net and night fishing in the northern half of the marine area, and a complete ban on fishing of all kinds in the southern half.
"The partnership with Mission Blue is another exciting development for Tetiaroa Society," said Stan Rowland, chairman of Tetiaroa Society. "It is further support for the cause here on Tetiaroa to preserve the atoll and marine area as one of the key locations in the world for scientific research and sustainable interdependence."
Tetiaroa Society's mission to inspire sustainable interdependence through education, conservation, and creative science has led to many research studies taking place on the atoll. They include an ocean acidification project with the University of Washington; the Tetiaroa Biocube and ARMS project with the Smithsonian Institution; and a study into the ecology of reef sharks led by scientists from the University of Washington, Florida International University, and The Insular Research Center and Environment Observatory (CRIOBE) of French Polynesia.
About Tetiaroa Society
Tetiaroa Society is a tax-exempt 501(c)(3) U.S. nonprofit organization dedicated to exploring innovative solutions to the world's most pressing issues relating to sustainable interdependence. Named after the atoll of Tetiaroa, French Polynesia, Tetiaroa Society supports conservation efforts aimed at developing the understanding of harmonious interactions between people and their surrounding ecosystems. Inspired by the late Marlon Brando's vision to preserve sanctuaries for future generations and raise awareness of the fragility of our environment, Tetiaroa Society was founded by Brando Enterprises, which owns the atoll, and Richard Bailey of Pacific Beachcomber, and is supported by high profile members of the international scientific and entertainment communities. As a site of high historical value, as well as rich scientific research opportunities, Tetiaroa Society plays a pivotal role in preserving local cultural interests on Tetiaroa and expanding the scientific lessons learned to create a farther-reaching and globally significant purpose.
###