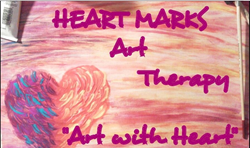 Bringing the healing power of art to those in need
Purcellville, VA (PRWEB) March 16, 2015
Heart Marks Art Therapy is hosting a volunteer orientation to explain their services, volunteer needs, upcoming events and to answer questions about the organization. Volunteers gain and share experiences in art, therapy, mental health issues, event coordinating and other local community volunteering satisfaction.
The orientation will be at Lo Co Joe in Purcellville on Sunday, March 22nd at 4pm.
This is a great opportunity to learn how you can give back to the local community or to satisfy high school and college community service hours. There are also an "Advisory Board" positions available.
Registration is requested. Please email Jessica Inman Payne at heartmarksarttherapy(at)outlook(dot)com to register.